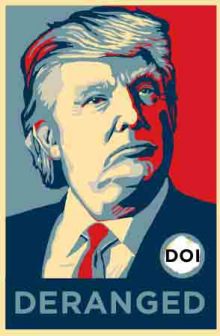 We posit plausible scientific theses!
You decide!
The criminally insane whack job that is wandering around the White House in his bathrobe babbling to himself and plotting revenge against everyone in AMERICA! who has refused to publicly swear allegiance to his throne is obviously suffering deep and incurable mental illness.
If CNN reported tomorrow that Precedent von Clownstick was found eating his own arm and laying in his own feces on the floor of the oval office with a greased woodchuck stuck in his ass, no one anywhere would be surprised. Anyone who's read the newspapers in the last month would shrug.