Friday Hypocrisy Dump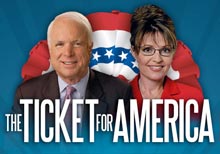 Lacking some decent porn news to post later tonight, let's check in instead on a couple of ongoing political handjobs.
First up: John McCain, last seen aghast that Al Franken would cut off Douchebag Joe mid-douche:
I've been around here 20-some years. First time I've ever seen a member denied an extra minute or two to finish his remarks.
You don't wave a red flag like that in front of an army of pissed-off bloggers without somebody finding the dirt:
The PRESIDING OFFICER. The Senator's time has expired.

Mr. DAYTON. I ask for unanimous consent that I have 30 seconds more to finish my remarks.

Mr. McCAIN. I object.
October 10, 2002. But wait — there's more! What was at issue? Nothing more than the Iraq War authorization.
And we couldn't end the week without again checking in on Sarah Palin, herself last seen fleeing the Yellow Peril in Hawaii. As we know, Talibunny opposes both socialized medicine and abortion — neither of which mattered when a Canadian hospital dangled $200,000 at her to speak at a fundraiser. Alas, we'll never see how her legion of photo-buying supporters manage to ignore that one — the hospital has yanked the offer.
Ah, well. She'll always have her bowling trophy.
Following TP report, Sarah Palin is booted from her scheduled speech at a Canadian hospital fundraiser [ThinkProgress]
Add a Comment
Please
log in
to post a comment