Six Flags Over Wasilla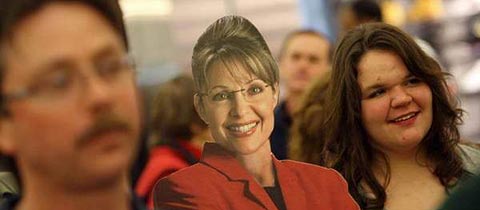 We offer our apology to the girl with the Sarah Palin cutout, whom we viciously accused of nursing a secret desire to watch a Partridge Family reboot on the Disney Channel. Upon further investigation, we've learned that she was only trying to save some serious coin over being photographed with the real Talibunny:
A spokesman for Palin's book tour says the crowd won't be allowed to take photos of Palin, but can pose with her and buy copies later from a Web site.
This confirms our notion that Palin isn't really running for President, but doing market research for her new line of theme parks. The Flash-in-the-Pan Mountain ride will be especially thrilling, when automated cameras take your picture as you crash to the bottom of the polls. Raise your hands, everyone!
Add a Comment
Please
log in
to post a comment