Paper Chase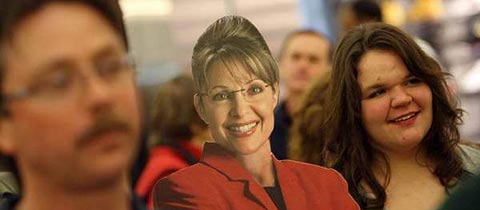 Sarah Palin dropped by Grand Rapids, Michigan, on the first stop of her book-signing tour. We cribbed Free Republic's notes to bring you this exclusive second-hand account.
Wednesday before dawn.
Five hundred people in line, temperature in the 30s. By 7 a.m., a thousand more have joined them, everyone wanting an autograph, which will be the only authentic thing about the ghostwritten book they purchase.
12-year-old Katie Hughes, who has waited in line since 3 a.m., "is such a huge Palin fan that she pasted a Palin poster on her bedroom ceiling so the politician is the last thing she sees at night and the first thing in the morning." Katie is going to lead an interesting life.
4:20 p.m.
Bridget Hemingway, 15, "stood with a life-size cutout of Palin," shown above. A disturbing trend is beginning to emerge, one that can only be addressed with a Disney Channel remake of the Partridge Family. Somewhere in America, Mitt Romney is forcing his sons to learn guitar.
4:40 p.m.
"I always feel she's for me," says Mary Carrothers, 95. Carrothers must not live in Alaska, where the state's senior-care programs under Palin were "so poorly managed, the state cannot assure the health and well-being of the people they are supposed to serve."
5:26 p.m.
Palin's bus arrives at Woodland Mall. First opportunity missed: David Cassidy not seen aboard.
5:30 p.m.
"Palin comes out of the bus, clad in a red and black jacket and black skirt and carrying her son Trig." To face a crowd of 1,500 people? In 30-degree weather? She might as well dangle him off a hotel balcony.
6 p.m.
Robin Case, who hasn't slept in 34 hours, gets an autograph. "I don't know what I am or where I am right now," she says, providing a case study for Palin Derangement Syndrome.
6:10 p.m.
Fifteen years ago, G. Gordon Liddy signed Mark Vainner's green jacket, followed over time by Newt Gingrich, Sean Hannity and Laura Ingraham. Palin adds her signature to what must be the smelliest piece of cloth in the room.
6:50 p.m.
Barnes & Noble plays "Barracuda" in the background as Palin signs. Nancy Wilson, who felt "completely fucked over" by Palin's copyright theft last fall, must feel absolutely reamed by now. Perhaps she'll write the songs for hubby Cameron Crowe's new biopic, Almost Literate.
Add a Comment
Please
log in
to post a comment