Mark It Zero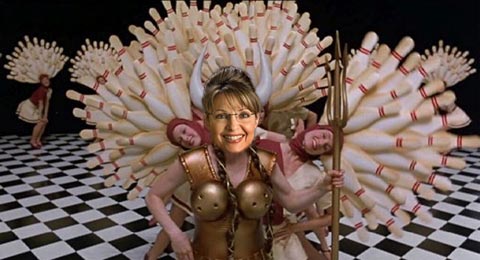 Is Chris Schenkel still around? No? Then somebody else will have to call the splits next June when Sarah Palin fronts for the Bowling Proprietors' Association of America in Vegas:
"Sarah Palin is a great friend to the bowling industry and we're so proud and honored to welcome her as our keynote speaker at International Bowl Expo 2010," said Steven Johnson, executive director of the BPAA.

"Regardless of your political affiliation, Ms. Palin is a force in American politics and culture. Her presence underscores the impact and importance of bowling, one of our country's leading national pastimes and a growing $10 billion industry."
We're sticking with our suspicion that Talibunny is conducting market research for her Six Flags Over Wasilla theme park. But it could just as easily be argued that she's taking an early swipe at Barack Obama for his lack of grace on the lanes.
Add a Comment
Please
log in
to post a comment