An Inconvenient Compromise?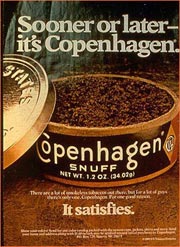 This was supposed to be Global Warming Week, at least until Droopy distracted everybody:
A senior Obama administration official says the U.S., China, India and South Africa have reached a "meaningful agreement" on climate change.

The official characterized the deal as a first step, but said it was not enough to combat the threat of a warming planet.

Details of the deal with these emerging economies were not immediately clear.
Ah, yes, the First Step. Whereas Kyoto was a slip in the mud.
Update: Move along, nothing to see here, citizens…
The agreement is believed to follow the form of a draft accord that was circulating here early Friday evening. In that draft, developed nations committed to a long-term target of reducing their greenhouse gas emissions 80 percent by 2050. No specific mid-term target was set.

The draft dropped earlier language that said a binding accord should be reached "as soon as possible," and no later than at the next meeting of the parties, in Mexico City in November 2010. Instead, the draft set no specific deadline, saying only that the agreement should be reviewed and put in place by 2016.
2050? That's nice. Like they say, in the long run we'll all be dead.
Add a Comment
Please
log in
to post a comment