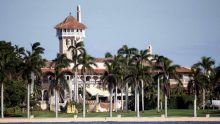 TRUMPLIGULA!'s rancid Florida club for senescent racketeers, gangsters, wannabe society page characters and, of course, rich ASSHOLE!s has again been cited by building inspectors for failure to maintain a hospitality facility that is less-than-lethal.
Last year, The so-called Winter White House of The Bride of Putin was found to be serving rotting food from its alleged restaurant, dishing out heinous ooze that could kill even the hideous ghouls that frequent the repulsive shithouse.
The Miami Herald is reporting today: Mar-a-SHITHOLE! was cited Nov. 8 for two violations deemed high priority: the lack of smoke detectors capable of alerting the hearing impaired through flashing bright lights; and slabs of concrete missing from a staircase, exposing steel rebar that could cause someone to fall.
This is what you get when you drop $200,000 to be a member of the Mar-a-SHITHOLE! club: