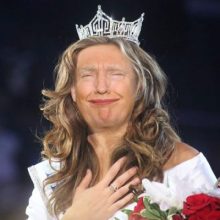 Anyone who watches banks can see the only way Trump can go to jail is for his operational role in moving cash for organized crime rings working out of Russia and the former Soviet republics.
Just being an asshole who attempts sex with child hookers, porn 'actresses' and unfortunate models isn't enough to put away a sitting president.
Structuring the movement of money for organized crime in the employ of state-controlled actors who are historical adversaries of the USA!,
however is another matter.
Trump's failed casino, the Taj, was venue for documented money laundering that resulted in settlements in 1998 and 2015.
Trump's last source of financing, Deutsche Bank, has been bagged and fined by governments in the UK, USA! and New York State to the tune of just north of $11 billion so far that we can see on the public record.
Alone among real banks, Deutsche Bank has financed Trump's 'development projects' to the tune of hundreds of millions of dollars, obviously to create a cash movement nexus to book the 'repayment' of loans and account for proceeds.