PRESIDENT PELOSI IS LOOKING MORE LIKELY EVERY HOUR! CNN REPORTS BIG FAT NAZI TRUMP IS 'HAVING TROUBLE BREATHING' – AND IT'S NOT PUTIN'S TURGID SCHLONG THAT'S BLOCKING HIS THROAT!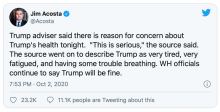 Big Fat Kremlin Call Girl Donald Trump was medevac-ed to Walter Reed Hospital this evening amid reports that House Speaker Nancy Pelosi has assured America that Continuity of Government Protocols required to maintain national government during loss of executive communications or incapacitation are ready to assure restoration of a functioning government should Satan take his boy home. 
The White House has of course lied about everything including Big Fat Asshole Trump's condition, with White House Dr. Sean Conley claiming, "the president remains fatigued but in good spirits."
CNN chief White House correspondent Jim Acosta reported that White House officials, "have serious concerns about Trump's condition tonight and his symptoms are worse than those of the First Lady at this point, according to our sources."
HAVING TROUBLE BREATHING! 
BIG!
FAT!
INFECTED!
TRUMP!
Can justice be at hand?
Add a Comment
Please
log in
to post a comment