TRUMP! TRUMP, COME OUT AND SUCK AN ARTILLARY SHELL LIKE A MAN! YOUR BEST BUDDY KIM JUNG-ON CAN DO THE HONORS!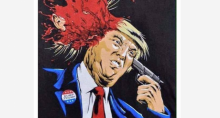 Donnie! Bite the barrel or die in Attica of unspeakable assaults and humiliations!
They stomped Father Geoghan to death!
They hung Epstein for entertainment!
You have far fewer fans in the prison system.
You won't go with nearly as much dignity.
Think about it.
Pull the trigger – or call Kimmycakes!
Add a Comment
Please
log in
to post a comment