STINQUE TO COMMONWEALTH AND EU: Pull the Embassies and Refuse to Land Freight From Ships of Any Flag Carrying US Goods!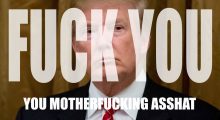 Froginchief Macron did the right thing calling up Killer Joe on the phone but THIS CUNT MUST FUCKING GO! and it will take stronger stuff to  resolve the Trump crisis du jour.
STINQUE thereby commands the Commonwealth of Nations and the EU and all of their member nations to recall their ambassadors immediately and instruct customs officers to refuse to land any US goods, regardless of ship's flag.
This will give cuntface something to think about.
Add a Comment
Please
log in
to post a comment