Eight Weeks a Day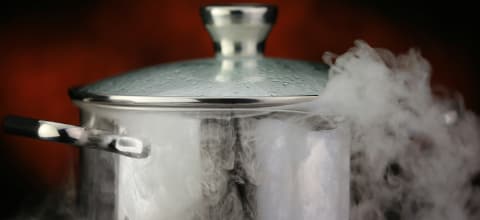 Memo to the Future:
We don't know what horrors you'll be seeing — American pandemic deaths just passed a quarter-million here, and what was frozen on our planet is rapidly thawing — but we'd like to tell you about our week.
Remember the United States? The federal republic version, not the warring fascist and socialist versions, each claiming the name? Yeah, still here, this moment, anyway. But it came close!
That was our week, seeing how close it would come to falling apart.
This might surprise you, but before citizens of the Socialist States of America voted for a leader directly, and subjects of the Fascist States vied for adoption under the rules of Dear Leader family succession, we had something called the Electoral College. Started out as a hiring committee (you know that part), quickly became something else, finally settled into a kind of appendix of the body politic, until it burst.
Twice.
And almost a third and final time, except not really, but that's what last week was about, the not-really-but-maybe part.
If you've been reading our Dispatches Into the Unknown, you know we're something of a civics nerd. Not the grand traditions of civic life — what do you take us for, a flaming centrist? — but the mechanics of it, how shit works. There's a game to be played, with rules and everything, because if you don't play the game, you end up with Politics By Other Means, and you people of the future know how that goes.
(By the way: Cascadia? Did that happen? We had a bet riding on it.)
Anyway, the game: Every state got a team, and every team got a handful of votes, and most votes won. Which was how it was looking this time, until the losers tried to claim the teams they lost.
Mind you, you can't just do that — or couldn't at the time, we don't how it's going for you in the SSA or FSA or Cascadia, although we guess the biggest stash wins the latter. You have to pick off a team's players. And the losers tried that at first, what became known as the Four Seasons Gambit, and when that failed, they got creative.
Because the winners don't just get to name their teams. They have to be certified winners, and if you can stop them from getting the Seal of Approval — no, not a circus animal, but you're forgiven for thinking that — then maybe you can name your own team, the team you wanted in the first place. It's in the rules!
No, really! We looked it up! We looked up a lot of shit last week. It was like being in grad school again. You don't walk into seminar without coming armed.
(We mean metaphorically armed, Fascist States. Higher education wasn't yet conducted by warring factions, it just felt that way.)
Thing is, though, naming your state team wasn't even the end if it. Because before the team votes were counted, Congress could challenge each team, the result of which might be naming the other team instead, or no team at all, at which point you still might have enough teams on your side to win, or maybe nobody had enough teams.
Nobody knew! That was in the rules too, how it could work both ways, at which point you would need the umpires to decide, which is why buying umpires had already become a national pastime.
And if things made it that far, the final decision would go to the House, where every state got one vote, no matter how many players it had on its team — and no matter how those players got there in the first place. (It's like school districts: If the star quarterback lives a block away from your school's boundary, change the boundary.)
Whew! That's quite a lot to take in, isn't it! You could spend weeks, months, working out the nuances!
We had, like, four days. Plus thinking about how the fans would react to all this, because it's a spectator sport, too. Everybody's watching!
So why didn't it happen? How did we end up putting off the fall of democracy for another two or four or ten years?
It wasn't because the losers gave up. It wasn't because the losers didn't still want it. In the end, there were just too many teams to flip, is all. It came that close, that close to an effective coup that would have ended the country as we know it.
And next time? Who knows! You're the future, you tell us.
Add a Comment
Please
log in
to post a comment