CRAZED DEFEATED CUNT Donald Trump IS ON SUICDE WATCH BECAUSE HIS ENTIRE WORTHLESS LIFE IS IN FLAMES AND HE DOESN'T WANT TO DIE IN ATTICA! HAHAHAHA! DO IT, DONNIE! BITE THE CYANIDE! YOU MURDEROUS FUCKING CUNT AND FUCKING DIE! EVERYONE DIAL (202) 456-1111 AND TELL HIM TO DO IT AND GET IT OVER WITH!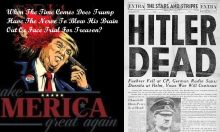 https://www.rawstory.com/2020/11/trump-is-in-an-uncontrollable-rage-mary-trump-says-somebody-has-to-step-in-and-stop-her-uncle/
The president's niece dissected her uncle's highly controversial press conference during a Thursday evening appearance on MSNBC, RAWSTORY reports from an MSNBC television report.
Anchor Lawrence O'Donnell asked Mary Trump what she saw watching Donald Trump's address to the nation, RAWSTORY reported.
"Well, we're seeing a man who is in a unique position," she replied. "Donald has never been in this place before where there's nobody to bail him out, there's nobody to buy him out. He's desperate, he's flailing, and there's literally nothing he can do legitimately except to watch this play out helplessly," Mary Trump opined, clearly indicating Moe and Larry need to come to the White House with cheese or the tassel.
"This wasn't just Donald obfuscating or lying. This was Donald talking about an attempted coup," she explained. "The leader of a country trying desperately to de-legitimize an election. it is obscene and somebody has to step in and stop him."
Add a Comment
Please
log in
to post a comment