Altered State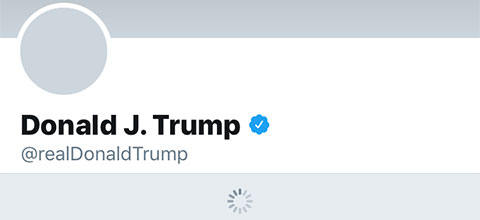 For a brief, shining moment, the world was safe.
For eleven minutes Thursday, the greatest immediate threat to humanity's survival — besides humanity itself — didn't exist.
It was bliss, a glimpse into an alternate reality where things are still going to shit, but we're working on it, and it's not hopeless.
And then Twitter restored Donald Trump's account.
Back when it looked like Trump's political incompetence was worse than Hillary's, we feared that while the Republic may have dodged a bullet, the next would be better-aimed: Trump had done nothing more than exploit the well-tended resentment of Angry White Voters, and we couldn't be confident that the next demagogue wouldn't come equipped. A pivot towards the middle, Fascism With a Human Face, and we were doomed.
That, it turns out, was electorally unnecessary. Thanks to a system that is structurally unrepresentative, that can be gamed by drawing arbitrary lines and excluding unwelcome participants, Trump was able to achieve power without bothering to solicit the consent of the governed. And he's been lurching towards tyranny as hard as he can, with the acquiescence of a governing party in Congress that's far more interested in its own power than the citizens it purportedly represents.
Trump's election was a perfect storm.
Unless it wasn't.
Instead of a freak occurrence, it may have been an indicator of a changing political climate, already past its tipping point, the evidence of which was provided in those welcome eleven minutes when the world we now live in didn't exist.
Donald Trump as we know him wouldn't exist without social media. He has said as much himself, only the second known case where he has made a statement of fact without lying. (The first related to pussy-grabbing.) His game show wouldn't have been sufficient to make his political reputation. Even his political rallies were tantamount to YouTube videos, presented in full on cable networks without mediation. Where candidates once had to deal with the gatekeepers of a mass-media system that controlled both content and distribution, Trump could sidestep all that and reach individual voters directly.
This is not new, by the way. Before the Internet, there was targeted direct mail, which, in the hands of an evil genius like Richard Viguerie, could deliver carefully crafted incendiary messages to individuals without their neighbors (or political opponents) knowing. And Viguerie himself was early to recognize the Internet as a far more efficient, far less expensive, delivery system. Social networks merely complete the evolution from mail and email. Donald Trump can cause more harm while taking a shit than his predecessors could manage with design, printing and postage.
And he's just an idiot who lived long enough to find his perfect medium. Our new political climate — which includes our new technological climate — allows every bad actor in the world to play in America's Sandbox, not just our homegrown demagogues. When the Russians weren't playing Trump's campaign leaders for patsies, they were monkeywrenching the citizenry, inflaming both sides of an issue, right down to organizing dueling street protests.
This turns out to be ridiculously easy. The other day, a friend posted an anti-Israel meme on Facebook, noting that the fractured English made it likely that the meme was generated by a Russian troll mill. And the first comment on the post ignored the provenance, instead launching into an impassioned condemnation of Israel. When we observed that the meme strategy appeared to be effective, the commenter replied with more details about Israel's bad faith with its Islamic citizens.
All of which we happen to agree with, in its broad outlines. But the intent of the meme — and the point our friend was making in sharing it — was to push buttons, to foment divisiveness. Mission accomplished.
And this was a lefty meme. Trump's cult followers may be mindless idiots, but partisans of all labels are prone to sensationalism and wishful thinking. We've seen plenty of examples recently of Progressives who are as dismissive of facts as Paleoconservatives. Just claim, with no understanding of legal procedure, that Trump's name is at the top of a sealed indictment, and watch them come out of the woodwork.
This is the world we live in now, a world of con artists and marks, a world where we are all Robert Shaw in The Sting, targets of elaborately constructed false realities, custom-designed to satisfy our desires, easily delivered to our very fingertips on a massive scale. And this is the world that Donald Trump, America's malevolent Chance the Gardener, was able to intuitively manipulate all the way into the White House a year ago this week.
It was no perfect storm. It was the first of many Cat-5 hurricanes we'll be seeing in the political seasons ahead.
And for a glorious eleven minutes on Thursday, it never existed.
Add a Comment
Please
log in
to post a comment