The Republic Will Survive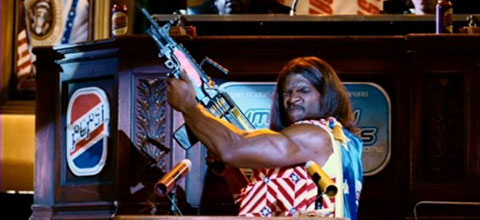 On behalf of the dwindling tribe of rational beings in These United States, we would like to thank Donald Trump for being utterly incompetent.
Trump's gift for making subtext text — for putting into words what other politicians encoded in dog whistles — revealed what everyone has known, or should have known, since 1980: Conservative politics is total bullshit, an intellectual veneer riding atop an ugly racist engine.
Whatever merit was to be found in conservative "ideas" was totally irrelevant, since without the power of Angry White Voters resentful of Welfare Queens and fearful of Black Murderers, those ideas would never have gained or maintained currency.
And should that bigotry wear thin in a given election, you could always turn to faggots instead to incite an electorally remunerative moral panic.
The ideas never mattered, as Donald Trump amply and repeatedly demonstrated while steamrolling his way to the Republican nomination. All that mattered — in terms of seeking power — was making a better appeal to the hate, fear and resentment of White voters than anyone else. The only surprise was that nobody had thought of it before.
Luckily for the rest of us, that's the limit of Donald Trump's ability.
A competent demagogue would have immediately switched registers upon securing the nomination. Not a "pivot", not "maturing", just watching your words in mixed company. With the aid of a thoroughly cynical speechwriter, Trump could have maintained his Aggressive Posture (see how that works?) without shaming the Nice People who might feel inclined to support him. It doesn't take much to spin a Hideous Monster into a lovable Bad Boy.
That ain't happening. That won't happen. Donald Trump has no interest in power — he's more than happy to hand off all the working parts of the presidency to his veep. All Donald Trump wants is to bask in the glory of being Donald Trump.
And so, the Republic is safe. For now.
But those Angry White Voters, their resentments carefully kindled for generations before finally being torched, aren't going away. And where Donald Trump doesn't seek actual power, he has shown the way for those who do.
America is lucky that Donald Trump is incompetent. We may not be so lucky next time.
Add a Comment
Please
log in
to post a comment