Exit Right to Funway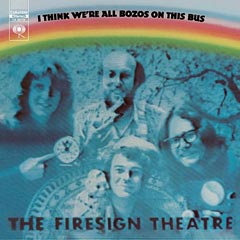 (See links at bottom for The Complete BozoGate Saga.)
Let us begin our journey with this Bombshell News from the New York Times:
"We were a big noisy family with a lot of backyard skits and carnivals," said Ms. O'Donnell, whose mother, Carole, called her Chrissy the Pooh and whose father, Daniel, worked a series of small television roles before scoring his signature gig — playing Bozo the Clown.
That would be enough to overtake Bill Maher in the O'Donnell Revelation Sweepstakes, but rather than snicker at Celibabe's upcoming campaign bio, My Dad Was a Bozo, we've been absorbed the past few hours with the disturbing suspicion that Dad's signature gig cannot be verified.
And so, welcome to our first installment of In Search of Bozo.
As students of American history know, Bozo is Large and Contains Multitudes. The ur-Bozo is generally accepted to be Larry Harmon, who wasn't the first to don the pancake and cowl, but was smart enough to secure the licensing rights. Officially blessed Local Bozos followed in his wake, appearing on television nationwide.
Notable DC Bozo: Willard Scott.
Not found in Wikipedia's Local Bozo Catalog: Daniel O'Donnell.
But while Wikipedia's Bozo Roster is commendably extensive, we hesitate to declare it definitive. And since a search for "Daniel O'Donnell" yields pages of links to a popular Irish singer, we must continue our journey in a different direction.
We know, for example, that Christine grew up in Moorestown Township, New Jersey, a suburb of Philadelphia. It stands to reason that if Dad was a Local Bozo, the locality would be a Philly TV station, as a Times follow-up piece confirms: "He was Philadelphia's Bozo the Clown."
Christine dropped in 1969, and Wikipedia lists two relevant Bozos for WTAF: Doug Wing in 1969, and Craig Michael Mann in 1970. Philly had to wait almost a generation for its third Bozo, Deon Aumier at WGBS in 1989-1990.
That seems rather spotty: Is there a Philly Bozo Missing Link?
Back in March 2007, WHYY presented a special on "Philly's Favorite Kids Show Hosts", and a discussion on the matter yields this nugget:
I find it interesting that Philadelphia is one of the markets where a Bozo franchise never took off.
There's no mention of Daniel O'Donnell in the casual comments there, although the "Ron Polao Fun Club" sounds intriguing.
So let's visit WHYY's program page itself, and see who they saw fit to mention for their high-profile fundraising special:
Sally Starr. Chief Halftown. Pixanne. Bertie the Bunyip. Captain Noah. Gene London. For two generations of Delaware Valley children, these colorful personalities brought a new brand of entertainment to daytime television — a place where worms could talk, fairies flew, an ark came to life and imaginations ruled!
Or, if you prefer them listed by Secret Identities: Sally Starr, Traynor Ora Halftown, Jane Norman, Lee Dexter, W. Carter Merbreier, Gene London, plus "Shock Theatre" host John Zacherle.
Oh, and Howard Jones. He played "Happy the Clown".
No Bozos there. No Daniel O'Donnell, either.
Nor is there a Daniel O'Donnell at the Philly Broadcast Pioneers website, which offers a host or two that WHYY overlooked. (We do find Charlie O'Donnell, an announcer for American Bandstand, and later Wheel of Fortune.)
Finally, before we give up, let's check the Philadelphia Local Kid Shows fan website, where we find — well, where we don't find Bozo or O'Donnell, but hey, did you know Peter Boyle's dad was "Chuckwagon Pete"?
We didn't either. But when you look for Bozo and find Young Frankenstein, that seems like a good moment to end the Long Strange Trip, and await further clarification. Because even if we can't find any evidence that Christine O'Donnell's dad was Bozo, we're sure he was a Bozo in her heart.
[Tip o' the hamster to Stinquers karen marie and Walking Still]
BOZOGATE: THE COMPLETE SAGA
1. A Very Special Stinque Investigation
2. "Where's the Bozo Certificate?" Billboard
3. Channel Your Outrage Into Our Bank Account
6. Adventures in Surrealism: BozoGate on Countdown
Add a Comment
Please
log in
to post a comment