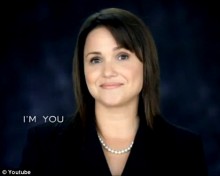 She's baaaaack!!!!
Tea Party darling, non-witch, alleged daughter of Bozo the Clown, born-again virgin, and failed U.S. Senate candidate Christine O'Donnell endorsed Mitt Romney for the GOP Presidential nomination yesterday.
And she's back in classic Celibabe fashion. When quizzed about concerns regarding Mittens' flip-flopping on every issue of importance, she said, "He's been consistent since he changed his mind."
One can only hope to see her out on the campaign trail soon.
Very soon.