BozoGate: Adventures in Surrealism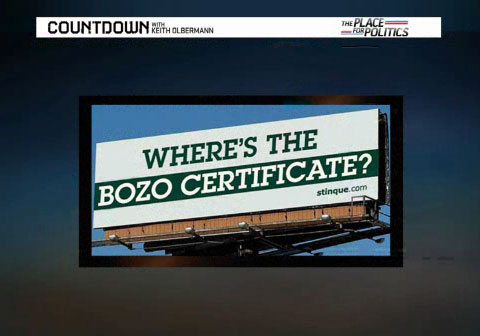 Ladies and gentlemen, Keith Olbermann presents BozoGate, starring Angry Bob as Bozo, Michael Musto as Random Witch, and about a minute in, A Very Special Cameo by Stinque, playing the part of Bozo Truthers in the crowd scene.
[ MSNBC Flash video not available. ]
Honestly, if this keeps up, we'll be forced to break Celibabe's Commandment and violate ourself.
BOZOGATE: THE COMPLETE SAGA
1. A Very Special Stinque Investigation
2. "Where's the Bozo Certificate?" Billboard
3. Channel Your Outrage Into Our Bank Account
6. Adventures in Surrealism: BozoGate on Countdown
Add a Comment
Please
log in
to post a comment