BozoGate: The Reckoning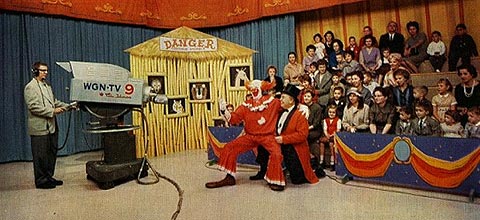 Well! That was fun!
Problem is, BozoGate was only the third weirdest Christine O'Donnell story Monday. Damn, it's a jungle out there.
But let's recap: The New York Times has now clarified its story that Celibabe's dad played Bozo in Philadelphia — his "signature gig," as first described. After a squadron of Bozo Truthers questioned the factual basis of that assertion, Dad came forward to explain that he wasn't the official, accredited Local Bozo, but a Bozo Stringer who would fill in for personal appearances and such as needed.
We're glad we didn't grow up in Philly, because we would have been ten at the time, and we'd be crushed to learn now that we've been living a lie all these years, thinking we had met the real Bozo. Or a real Bozo.
As it happens, the Times follow-up post was very generous to us, quoting almost all of our best lines. Much less generous, alas, was TPM, the latest home of Mommy 1.0 — and the site everybody in the chattersphere links to — which riffed on the Times post, but stripped our credit in the story to a mere generic "uprising of online commenters."
Ahem. While other folks on the Interwebs certainly noticed that "Daniel O'Donnell" didn't appear on Wikipedia's Local Bozo page, we owned that story, and we have the billboards to prove it. Not only that, the Times post only cited us in general, and newly promoted Stinque Senior Clown Correspondent karen marie in particular.
Geez, TPM, if only you had responded to our original Saturday email, instead of waiting until Monday afternoon's second message, maybe you could have had that scoop, instead of sloppy seconds.
(Much more responsive Monday was the Delaware Liberal website, which quickly turned around an "anonymous tip" by Stinque Senior Anonymous Tipster RML, who must have punched out at least a dozen messages on our behalf while we all should have been racking up billable client hours yesterday.)
So: Is that it? Have we come to the end of our journey?
The Times update broke Monday afternoon, so we may yet see some fallout today. But, as alluded to above, BozoGate has to compete with SecretAgentGate and IAmNotAWitchGate for attention. And really, even as absorbed as we are in All Things O'Donnell, even we have to admit a certain degree of Celibabe Exhaustion. America, you can have too much of a good thing.
Unless, of course, a new Shocking Revelation! breaks today. Because honestly, we're gluttons for punishment.
BOZOGATE: THE COMPLETE SAGA
1. A Very Special Stinque Investigation
2. "Where's the Bozo Certificate?" Billboard
3. Channel Your Outrage Into Our Bank Account
5. The Reckoning
6. Adventures in Surrealism: BozoGate on Countdown
Add a Comment
Please
log in
to post a comment