eMeg NannyGate 2.0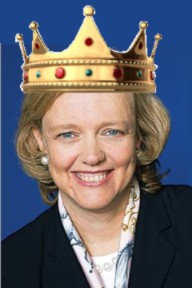 If it's Tuesday, there must be another ex-domestic worker of NutMeg and Harsh in the news. This time, the person is a U.S. citizen who was hired to be a nanny and personal assistant/jack jill-of-all-trades to the Harsh-Whitmans.
Jill Armstrong worked for eMeg in 1998, but lasted only two months before she quit because she "had trouble" getting paid for the time she had worked, and because of "challenges" in supervising the family's two notoriously ill-behaving sons. (Note: These would be the two children who Meg was too busy raising to vote).
Ms. Armstrong approached the San Francisco Chronicle to say that she believes the allegations made by former Whitman maid Nicky Diaz.  Armstrong described Whitman as "cheap" and not wanting to pay the agreed-upon salary for readying the Harsh-Whitman's new home upon their move to Palo Alto from Boston.
The most interesting part of the story for me, however, has to do with the IRS and tax reporting. According to Armstrong,
Her biggest problem, she said, came months later when she was ready to file her taxes but hadn't received a tax form from Whitman. She called her former employer to say, "Meg, you did not give me a W-2."

Armstrong heard nothing and "had to threaten to take her to the IRS" before Whitman's accountant called back and said, "Give me the numbers; give me the hours," she recalled.

"That's Meg's responsibility," Armstrong said she replied. "Isn't she supposed to have all that written down?"

"He said, 'Look, will you work with me?' " Armstrong said. "And that's how we came up with the numbers."
Armstrong's W-2 form shows her salary for two months of full-time work was precisely $5,200.00.
Add a Comment
Please
log in
to post a comment