The New Adventures of Old Christine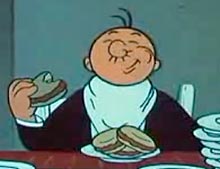 So, what's Celibabe been up to since losing to the Delaware Marxist?
"Tragedy comes in threes," O'Donnell said. "Pearl Harbor, Elizabeth Edwards's passing and Barack Obama's announcement of extending the tax cuts, which is good, but also extending the unemployment benefits."
Huh?
"If we're going to extend the jobless benefits we have got to cut spending programs and that's the flaw in his announcement," she said. "That's the tragedy."
Ah. Makes sense. Can't extend unemployment benefits without cutting spending elsewhere, of course. But those tax cuts, well, we'll gladly pay China next Tuesday, right?
Hold on — isn't O'Donnell herself now unemployed?
Well, yes, but she's relying on the kindness of strangers:
Former GOP Senate candidate Christine O'Donnell said she is forming an issues-oriented political action committee…

Calling it "Christine PAC" for now, she described it as "the new kind" of PAC that will allow her to endorse candidates, do independent expenditures in certain races, lobby on issues and do things "that other activist organizations have the handcuffs on because of the IRS."
Oh, and what else will it allow her to do? Seems she has $924,800 left over from her campaign — and hey, you can't have Christine PAC without Christine. That would be like putting on a clown show and not paying Bozo.
Christine O'Donnell forming a PAC [Delaware Online]
Christine O'Donnell Forms a PAC [Weigel]
Add a Comment
Please
log in
to post a comment