Join the Jingoistic Parade!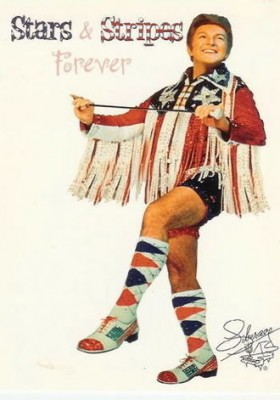 Last night President Barack Obama, addressing a crowd of Muslims in the White House observing the holy month of Ramadan, said that under the First Amendment's separation of church and state, a Muslim community center and mosque  has the right to build where they want to. Obama's comments echoed the stirring speech given last week by New York Mayor Michael Bloomberg defending the concept of religious tolerance.
The shrieks of Republican blowhards and politicians are increasing and no doubt will reach a crescendo tomorrow morning on the Sunday talkshows.
Talibunny incoherently twittered:
Will Obama express US lingering pain & ask Muslims for tolerance by discouraging 9/11 mosque while he celebrates Islamic holy month tonight?
Former U.S. Senator Rick Santorum:
The community center would "desecrate the ground of those who were murdered by people who practice the faith, or at least an element of the faith, that is being represented by that mosque. Islam is not just a religion, it is also a political doctrine."
I was going for more to share, and then I petered out. Really, guys, I tried. I just can't stomach going into the likes of WND like Nojo and Blogenfreude and Chicago Bureau can.  I found this photo last week and I've been dying to use it in a post. I tried going into the belly of the beast but Talibunny and Santorum were as far as I got.  I even went on Newt Gingrich's horrifying website but was so distracted by the insane hairdo of Wife #3 in the bottom part of the website that I was unable to read his missive on the mosque.  (Wife #2 spills on Newt to Esquire this month).
So yeah. The outrage continues on the right, and with the exception of Peter King and 9ud11 Giuliani, it appears that the level of outrage has a direct relationship to the blowhard's distance from NYC. And every story on Barry's speech seems to note that a recent CNN poll showed that 70% of Americans surveyed felt the mosque should not be built three blocks from the World Trade Center site, and many of the comments criticizing Obama and Bloomberg have included the idea that the First Amendment free exercise rights should be subject to popular opinion.  Gee, where have we heard the idea before that civil rights of a disliked minority should be put up to a popular vote?
/carry on and get off my lawn
UPDATE:
Per Nojo, Barry today: "I was not commenting and I will not comment on the wisdom of making the decision to put a mosque there. I was commenting very specifically on the right people have that dates back to our founding."
Ahh, nevermind. Go back to your regular programming.
Add a Comment
Please
log in
to post a comment