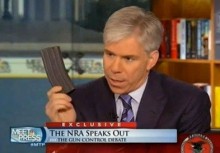 Sock puppet David Gregory will not be prosecuted for waving an empty high-capacity mag on the TeeVee:
The decision is interesting and disturbing for two reasons: 1) the prosecutors believe that Gregory (and his producers) were guilty of the crime, and 2) they seem to think that it is ok to use the rights granted by the First Amendment to attack the rights granted by the Second.
Bad Law Professor William A. Jacobson is aghast and also has the vapors, and his commenters are sure that a Fox talking head would be in jail if they did the same thing.
Don't these idiots know prosecutors only bring cases they think they can win?