The Wingnut Bracket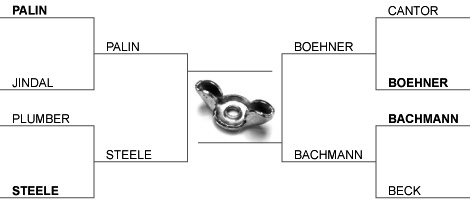 Some exciting GOP Tournament play this week, as Sarah "Talibunny" Palin introduced her volcanic "Monitor This" offense against archrival Bobby "The Exorcist" Jindal, throwing elbows to her own Republican legislators for good measure.
In other quarterfinal action, John "Here it is, Mr. President" Boehner threw a head fake to Eric "I Heart Britney" Cantor and drove the GOP Etch-a-Budget straight to the wastebasket, while fears that Michael "Tossed Salad" Steele had peaked early were put to rest when he dominated Joe the "Wifebeater" Plumber's fading tumescence with his masterly I-planned-to-peak-early comeback.
But the week's breakout star was Michele "Crazy Eyes" Bachmann, scoring play after play after play, and burying Glenn "Tears of a Clown" Beck in so much crazy that she's sure to win the Kitty Harris MVP award. America's batshit for Bachmann!
Add a Comment
Please
log in
to post a comment