Bob Allen – An Appreciation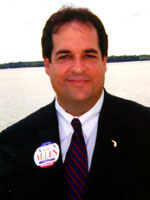 This blog was built on hypocrisy.  Mind-boggling, in your face hypocrisy.  Vitterian hypocrisy.  Spitzerian hypocrisy. The hypocrisy of a Larry Craig.
But we're in trouble. The shortage of GOP assfucking scandals is now a full blown crisis.
Let's leave Gary Aldridge aside.  He was a once-in-a-lifetime thing.  How often does a Jerry Falwell acolyte off himself while trying to get off while clad in 2 wetsuits, bound, with a dildo up his ass?  It's like Scarlett Johansson getting her cherry popped – a beautiful thing that will only happen once.
Which brings me to Bob Allen.  He was a rabidly anti-gay GOP state politician in Florida. He was the co-chair of John McCain's campaign in that state.  He was caught hanging around a public bathroom in a park offering to blow a guy for twenty bucks.  Bob was going to pay twenty bucks to the guy he was blowing, that is.
I will repeat that.
Bob would PAY for the opportunity to PERFORM oral sex on another guy.
And this is my point.  This sort of scandal is completely doable.  No wetsuits, no complicated knots, no flippers.  Just a Republican, a twenty, and a shitload of hypocrisy.
The GOP needs to get its act together.  How long do I have to wait for the next Bob Allen?  It's not fair.
Add a Comment
Please
log in
to post a comment