Watch the Head Fakes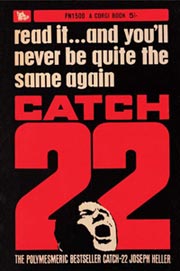 We'll admit we're cutting Barry some slack right now. He's following the most destructive Administration in American history, he's reasonably cautious, and frankly the wingnuts are far more amusing at the moment.
But just for practice, we thought we'd take a nibble at Friday afternoon's announcement that the term "enemy combatant" has been dropped from the official lexicon. Hurrah, we're supposed to think, one of the Bush abuses has been tossed aside:
Rather than relying on the president's authority as commander-in-chief, the department explained, the new standard "draws on the international laws of war to inform the statutory authority conferred by Congress."
Thus TPM, whose judgment we usually trust, celebrates the announcement as a "historic gesture". But note that "statutory authority" — it's the September 2001 "Authorization for the Use of Military Force" (AUMF), which was ostensibly directed towards the perpetrators of 9/11. That's the legislation that politicized a crime, that created a "war" when an FBI manhunt would have been more effective. If you want to date the birth of the Bush Tyranny, that's as good a place as any.
The DOJ doesn't question the law in its Friday announcement. In fact, the court memo included with the announcement proposes a "definitional framework" that states the President's authority under AUMF:
The President has the authority to detain persons that the President determines planned, authorized, committed, or aided the terrorist attacks that occurred on September 11, 2001, and persons who harbored those responsible for those attacks. The President also has the authority to detain persons who were part of, or substantially supported, Taliban or al-Qaida forces or associated forces that are engaged in hostilities against the United States or its coalition partners, including any person who has committed a belligerent act, or has directly supported hostilities, in aid of such enemy armed forces.
So the Obama Administration still claims the authority to round up the usual suspects, only now we'll call them, let's say, Xe. But what — if anything — mitigates that authority?
You would think that's where the "international laws of war" come into play, and the 12-page court memo is indeed sprinkled with references to U.N. resolutions and the Geneva Conventions. But every example cited is used to support detentions — because we declared "war" in the first place. And the President still has sole authority to make the call. Just like before.
The only substantive news in Friday's announcement amounts to a status report: "The Government will apprise the Court of relevant developments resulting from this ongoing [policy] process." Move along, nothing to see here. Yet.
Oh, and all this only applies to Guantanamo. Not, say, Bagram.
Department of Justice Withdraws "Enemy Combatant" Definition for Guantanamo Detainees [DOJ]
Add a Comment
Please
log in
to post a comment