OK, Stinquers — a quick contest for big money AND fabulous prizes: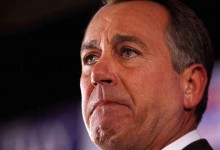 Tomorrow, as Nancy Pelosi hands off the gavel to John Boehner, Agent Orange will give a speech outlining what he intends to do with the next two years.  We all know what he's going to say, sort of.  But the big question is…
AT WHAT POINT WILL HE LOSE CONTROL OF HIMSELF AND START WEEPING?
Rules are simple.  When the handoff happens, invariably there will be a standing ovation.  As soon as that standing-o stops and he starts flapping his gums, the clock starts.  "Weeping" defined as (a) actual tears or (b) unplanned stoppage in speech for more than two seconds as he tries to collect himself COMBINED WITH acts incidental to weeping (deep breath, sniffling, etc.).
Put your predictions — quoted in minutes and seconds — in the comments.  The Price Is Right scoring rules are in effect: closest to the actual weeping time, without going over, will win.  (Addendum: taking a competitor's time and adding one second would be frowned upon, yet be totes hilarious at the same time.)  Example:
A — 4:30 // B — 5:30 // C — 5:31

Actual weeping time 5:15 — A wins… and gets to play PLINKO!
(No actual prizes, of course.  So there.)
As I will be judging, I will throw out an obviously wrong answer and declare that he gets through the speech without shedding a single tear.  Not even so much as a manly sniffle.  The rest of you: put some real responses in there.  Bonne chance!