I Don't Know If I'm Ready For This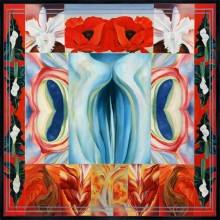 So we are one month away from the handover of the House.  And the reality is starting to hit home.  Seems that the Smithsonian — those rabble-rousing anarchists — have decided to put up a special exhibition on portraits of homosexuals. 
ORANGE ALERT!
There are some very famous artists represented in the show: Andy Warhol, Walt Whitman and Jasper Johns, among many others. But the work that so far has been the most controversial is a provocative video from 1987 by the late artist David Wojnarowicz called A Fire In My Belly.

Martin Sullivan, director of the Smithsonian's National Portrait Gallery, says the artist created the piece as a response to the "agony and suffering" of his partner who at the time was dying of AIDS. Using "vivid colors, and some fairly grotesque scenes, it's more a meditation on the fragility of the human flesh," Sullivan says.

[ants on crucifix, standard-issue rant from Bill Donahue, yadda yadda yadda]

At least one critic has accused the Smithsonian of caving in to pressure from Catholics and from two Republican members of Congress. Representative Eric Cantor of Virginia called the exhibition "an outrageous use of taxpayer money." A spokesperson for incoming House Speaker John Boehner told The Hill newspaper that "Smithsonian officials should either acknowledge the mistake or be prepared to face tough scrutiny beginning in January."
[See what I did?  Orange Alert?  John Boehn… oh, you people are no fun.]
And thus we see the value of having Democrats in power.  With Dems in power, the GOP merely gets two-thirds of what it wants. The good news is that the truly wingnutty stuff is pushed to the side.  But when the GOP gets the keys?
Point: the first two weeks of January are going to see toxic levels of crazy.  Hang onto your asses, everyone!  (Just not too suggestively, thanks.)
Add a Comment
Please
log in
to post a comment