Wait: Clouds Are Traitors Now?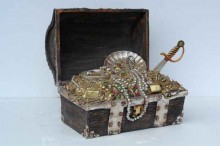 And so Joe Lieberman has, apparently, forced the hand of Amazon, who has advised Wikileaks to get off of its cloud.
This does pose an interesting question for us here, concerning the Stinque Kickback box, on the right-hand side of your screen.
Admittedly: this is not a decision for me, but for Fearless Leader.  But the question has no good result.  Either we keep the Amazon link and reward Amazon for giving bandwith to a self-absorbed, nefarious gasbag, or we punish Amazon for caving in to pressure from… a self-absorbed, nefarious gasbag.
Your move, nojo.
Add a Comment
Please
log in
to post a comment