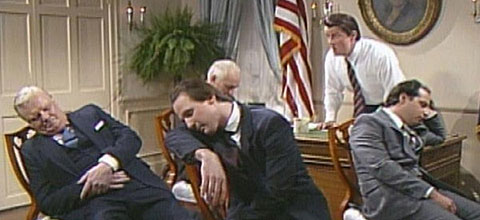 One of our favorite SNL sketches is thirty years old. In it, Phil Hartman plays Ronald Reagan in the Oval Office, doing his Charming Old Codger bit for visitors. But as soon as they leave, he takes charge, commanding his hapless minions with supreme intelligence and authority.
It was hilarious — then and now — because it was so obviously not the case, despite efforts to portray Reagan as fully engaged in his own administration. And when it aired in December 1986, the Iran-Contra scandal had been revealed only weeks earlier.
Similar sketches were written for George W. Bush, who might have been slightly more engaged than Reagan, but not nearly as engaged as Dick Cheney. Just imagine Will Ferrell saying "I'm the Decider", and a whole era springs to mind.
And then there's Donald Trump, who couldn't be less engaged.