On Wearing "Fuck" in a Crowded Airplane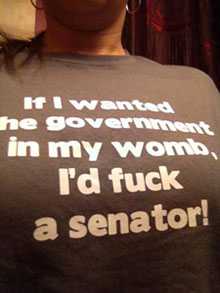 Lady gets on a plane, wearing this t-shirt. Flight proceeds uneventfully. But as the plane is about to land, she's approached by the flight attendant:
She then proceeded to tell me that I needed to speak with the captain before disembarking the plane and that the shirt I was wearing was offensive.
Here's how ThinkProgress headlines it:
Woman Kicked Off Flight For Wearing A Pro-Choice T-Shirt
Yeah. Right. We're all for obscene outrage, but own what you wear.
Add a Comment
Please
log in
to post a comment