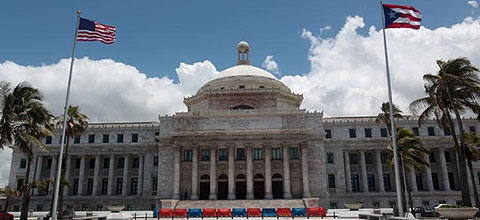 Puerto Rico, we have learned this week, is a hundred miles long by thirty miles wide, which makes it roughly equivalent to the Willamette Valley, in Oregon, where we grew up. Its population numbers some 3.4 million American citizens, or a half-million more than our home turf. The distance to Miami is around a thousand miles, which will also get you from Eugene to Los Angeles. By air, that's about two-and-half hours.
Of course, that's via civilian flight. You can cut that time and distance in half from Guantanamo, in Cuba. We happen to have a naval base there. You may have heard of it.
Among the things our nation asks of its military is to lend a hand during natural disasters. A dozen years ago, Joint Task Force Katrina was created to coordinate efforts between soldiers and FEMA civilians. It was only formed after FEMA was shown to be tragically inadequate to the task, three days after the New Orleans levees failed.
Puerto Rico has been without power and water for nine days. There has been no all-hands relief effort.