We Blew It All Up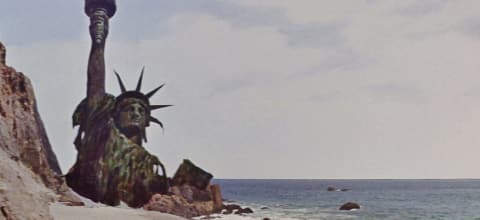 "The Sixties were an aberration," he told me.
We were sitting in his office. He was a fortyish school-district superintendent. I was a 23-year-old reporter.
It was 1982. He knew what he was talking about. I didn't.
The Sixties were an aberration.
The Sixties were all I had known, barely, plus the Seventies. My life to date had been a time of progress: social progress, technical progress, creative progress. Things were far from perfect, of course, but things had a tendency to keep getting better. That was just how the world worked, the world I had known, the only world I had known.
Things just kept getting better. Until 1980. Until Reagan. Until things started getting worse.
The Sixties were an aberration. And now America was reverting to norm.
The fortyish superintendent, he had known the Sixties. He also had known the Fifties. He had known the Before. All I knew was the After.
But that was all he had known, the Fifties. He had known Ike, he had known McCarthy, he had known Brown v. Board, he had known Elvis. That was the Before. That was all the Before.
And for a time, I fell in line with that framing, that understanding of historical time, and not without reason. I was a child of the Seventies, and the Seventies were Happy Days, manufactured nostalgia for a childhood I had missed, the Tyranny of Simpler Times, the time before The Aberration.
I had grown up in the Sixties. People older than me had endured them. That was the difference. They had known a Before. My only world was an Aberration.
But the framing was incomplete. It took me many more years to understand this. The Sixties weren't an aberration from the Fifties. They were an aberration from all of American history.
And the aberration is this: We say we were all created equal, but we never really believed it.
We still don't. America has reverted to norm.
Some Americans, we're supposed to say here. White Americans. But that is a redundancy. To say White Americans is to imply there are other kinds, which there are not, and never have been. LBJ famously predicted Democrats would lose the South when he signed the Civil Rights Act. He was wrong. His prediction was incomplete.
Democrats lost America.
I was five. The America created by LBJ's signature, an America where all were truly created equal, was the aberration. I had grown up mistaking the illusion for reality. The illusion of America was the only world I had known, until 1980, until I was 21 and witnessed real America, White America, coming back with a vengeance.
My entire adult life. Before and After.
We blew it all up. We blew up the only America I had known, the one that had its problems, serious problems, mind you, but an America where we had acknowledged those problems and set ourselves to working on them. America was in Deep Shit — the Seventies were rough — but nothing we couldn't handle with honesty and determination.
That was the illusion of my childhood, my world of Aberration America, thinking we could address problems with honesty and determination. Yeah, no. Fuck that. Let's just lie to ourselves and call it solved. You got a problem, that's your problem. Slavery ended a century ago. Colored water fountains are black-and-white photos. Everything's fixed now, Michael Jackson is cool, and Welfare Queens just happen to be Black. Shut up and party.
We blew it all up. America reverted to norm, but with the pretense of the Aberration intact, that we were no longer racist because LBJ signed a piece of paper saying we weren't.
We were. We are. We have been forever.
And we're still lying to ourselves about it.
Add a Comment
Please
log in
to post a comment