35 Cents Cheap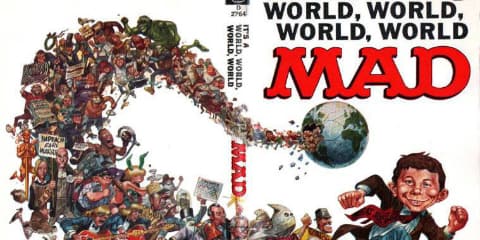 When we think of Mad magazine, we think of Jack Davis.
We could think of Dave Berg, or Antonio Prohias, or Al Jaffee, or Sergio Aragones, or Norman Mingo, but no, it's Jack Davis who lands first.
When we think of Mad, we think of the artists. The Usual Gang of Idiots included writers, of course, and one William M. Gaines, but now Dick DeBartolo comes to mind.
One writer. Took a moment.
Mad was visual, rich in sight gags, unmatched in caricature. The political cartoonists of the day were good — very good — but they could get away with one panel at a time, with the same subject. Jack Davis would illustrate pages of a movie parody, then knock off a TV Guide cover or two between issues.
Jack Davis nailed the exaggeration. He nailed the composition. He nailed the line. God, he was good. Any 10-year-old could see that.
Which places us in our era, something you have to do with a generations-spanning institution: 1969-1975, pretty much, 35 cents cheap, with a price increase or two before we checked out. The paperback collections were 60 cents. We bought as many as we could.
What was amazing about Mad was that it didn't pander. They knew who their audience was — kids like us — but they didn't bother to fit the product to our perception. They'll do Midnight Wowboy if they feel like it, or Bob & Carol & Tad & Alas, or Carnival Knowledge, and like hell Dad's letting us see any of those, but no matter. They're having fun. So are we. It's contagious.
Mad had a "reputation". We had to campaign for permission to read it. Dad finally relented, and of course it didn't take long until he was swiping our issues so he could read them.
Don't recall what Dad thought of the infamous middle-finger cover. Not one of our favorites, although it's inescapably memorable. Too on the nose.
Better: The cover with the giant barcode, stating they hope it breaks every supermarket scanner in the country. That was their response to being required to desecrate their cover with a barcode in the first place. That was Mad's first barcode cover.
That was Mad.
We remember those covers. We remember those artists. We remember the cross-section of an engine, paired with a "happy section". We remember the "Nixxon" sign above the White House — timed to when Enco/Esso changed its name — and the tagline "But it's still the same old gas!" We remember that someone sent a letter to the editors on MADison Ave., the envelope bearing nothing but a smiling Alfred E. Neuman and a zip code. We remember the letter being successfully delivered.
We remember a lot. We haven't looked at those issues in more than forty years.
And now, well, looks like it's gone.
The news isn't yet official, but the evidence is stacking up. Mad famously never ran ads, so it wouldn't have been a victim to those vicissitudes, but it was a print magazine that entertained generations of kids who had no Internet to distract them. Once upon a time you could buy it at the corner store with your 15-cent comic books, but printing and distribution haven't gotten easier over the years. We don't even know who owns it now, what with Time Warner gone.
Whatever its fate, Mad had its moment, a good long one, and we were there for one of the best stretches of it. Mad was there for us when it counted, when we were learning about comedy, the craft of humor, and what we learned remains with us to this day.
Literally. That's a Mad "department" right above the post title. If there's one thing Mad taught us, it's never let fine print go to waste.
Add a Comment
Please
log in
to post a comment