Springtime for Hitlers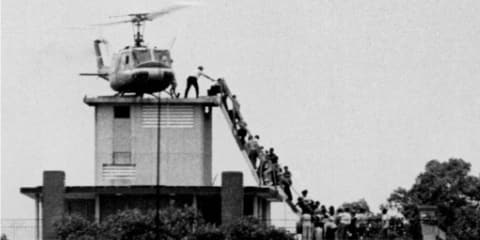 We thought we understood fascism.
The American kind, anyway. The kind that almost consumed the country in the 1930s, as it had consumed others. The kind rooted in economic depression, in desperation, in opportunistic leadership. The kind rooted in fantasy, a quick fix to an unsolvable, unendurable crisis.
We thought we understood that.
We thought we understood that all problems are economic, when you cut through the bullshit. Healthy countries — economically healthy countries — don't have these problems. We all get by, we all get along. We all have a roof over our heads.
We wuz wrong.
And thing is, we knew this. After all, we had lived through it. Still are.
We don't talk about the Seventies much, as a culture. The Fifties, the Sixties, sure. The Eighties, the Nineties, definitely. The Aughts, soon enough. We don't talk about them because there's nobody around to talk about them, no defined generation that holds the decade as its touchstone, when it came of age.
Seventies teens are neither Boomers nor Gen X, culturally. Our decade is a joke. Our music is a joke. Our clothes are a joke. Our hair is a joke. Our teen years were a dumpster fire of popular culture.
They also happen to be the last deep breath America took before it shut down, the last moment of freedom before America turned again toward fascism. Not emergency fascism, not the fascism of economic desperation, but a deeper, more determined fascism: The fascism of impotency.
You'd know that if you had lived through it. You'd know that if you've spent your entire adult life, all forty years of it, living through the consequences of it. You had to be there. We were.
What happened, the proximate cause of our impotency, the spark of fascism as we know it now, is that we lost Vietnam.
If you're 16 when Saigon falls in 1975, well, it's just another event of an eventful decade. You've already had your wage-price freeze, your gas crisis — crises, more than one — your Watergate. Just before that, just after you noticed there was more to the world than Batman and Laugh-In, you had your MLK assassination, your RFK assassination. By 1975, there really hadn't been much to recommend Life in These United States, and it didn't look like it was gonna get much better. There was a reason apocalyptic movies were in vogue.
But that's the world you're dealt, and if you're growing up in it, that's the world you accept. Kids do that. Not much choice, really.
Vietnam had been part of that world, too, the world as given, the world as we found it. There's no Gulf of Tonkin in that world, no escalation, maybe barely a Tet Offensive. There are the body counts on the nightly news — once you start watching — and yeah, you check the lottery every year in the newspaper, see if your number's up, if you were old enough to be drafted, which you're not. You think of Canada now and then, should things come to it. You think about your survival, what you might do when the moment comes, the moment your country comes to kill you.
And then Saigon falls, and there's that helicopter lifting off the embassy with the bodies clinging to it, and then it's over.
But it's not. It's still not. We're still living through it. We've been living through it for forty-four years.
In that moment, modern American fascism was born.
You'd know that if you lived through it. You'd know that if you lived through the consequences of it.
America lost. And we've never lived it down.
We should have known this. We've always known this.
We knew this when the Iranians stormed the embassy, when those photos came out. As a country, we took that personally. ABC launched a late-night news program with Ted Koppel over it. No, not Nightline. America Held Hostage.
Every night, after the local news. Every night, your Moment of Jingo. Not about the Shah as a ruthless dictator who had been installed by the CIA in 1953. Not about the Shah's secret police, the SAVAK — set up by us, the Americans — and how Iranian students on our own campus were so frightened of them that they protested with paper masks over their faces. No, Ted Koppel didn't report night after night on America's complicity with tyranny and the consequences of it. No, it was America Held Hostage. Day 134.
America was losing again. Fascism was abornin'.
We did win one in those years. In 1980. At the Winter Olympics. We whupped the Russkies. At hockey.
And in the moment, really, nothing wrong with that. Not our national sport. Definitely underdogs.
It felt good. It didn't last.
Jimmy Carter pulled America out of the Moscow Olympics that year. Over a Russian invasion.
Of Afghanistan.
You're welcome to draw a line between 1980 and 2001, and through today, but that's another subject.
That November, Ronald Reagan was elected America's first fascist president. Nixon had tried — hard — but Nixon wasn't a charmer. Nixon wasn't an amiable liar. Reagan understood that America was tired of losing, that the problem wasn't our country getting repeatedly involved in some fucked-up shit and paying the consequences, it was the impotency of it all, that we couldn't just slam our dick on the world table with a resounding thud.
That was the problem. Reagan got that. America would be held hostage no more.
You had to be there. We were. We had just turned 21.
Two more points, and you can fill in the rest. Reagan had been elected to avenge America's honor, to put the vitality back in our manifest priapus, but it took a couple years to find a suitable location to swing our big dick.
Grenada provided the opportunity in 1983. America's righteous might came down hard on… a Caribbean island, population 91,000. Operation Urgent Fury. Yeah, baby. USA! USA!
Oh, right. that. The chant.
That's it, really. The Chant. America's modern fascism in three punctuated letters. We were there for that, too. It was weird. It was embarrassing.
It was Vietnam. It was Saigon. It was America Held Hostage. USA! USA! We were tired of being told what an asshole our country had been around the world since 1945, tired of the consequences of our meddling, and we were done with that shit. America was going to be proud again. We were going to be proud to be Americans again.
We weren't gonna, like, deal with anything. That's all we had done in the Seventies, deal with shit, deal with the reality of our behavior and the consequences of our actions. America had had enough of looking at the man in the mirror. We didn't like what we saw. We didn't set about making ourselves better, making our nation better. We just broke the glass.
USA! USA!
Yeah, we lived through the 1984 Olympics, too.
Los Angeles. The Russkies pull out, tit for tat. In the context of the moment — the Cold War, international sports being an alternative to nuking the shit out of each other, and everybody else — we've lost an opportunity to slam their asses up and down our home field. All that's left is the rest of the world, and none of them are superpowers.
No matter. USA! USA! It's Granada all over again, and it doesn't matter, because we're winning, America is winning, and we're all strutting around with the Washington Monument in our pants. USA! USA!
And really, that's it. Nine years after the fall of Saigon, we're all fascists now. We've completely lost touch with reality, because reality sucks, and we don't give a shit anyway. We just want to win. We just want to say we won.
We just want to lie to ourselves. Desperately. Reagan understood that. So did both Bushes. Trump lives it.
What makes it fascism is the collective nature of it, the National Lie, the malevolent higher power into which we are joyously subsumed. We are the bound wooden rods of the fasces, wrapped around an axe. We do not reflect. We only act. We only win.
We're calling it fascism because we don't know what else to call it. We don't know what else to call places where brown asylum seekers are held in deliberately inhumane conditions than concentration camps. We don't know what else to call shit than what it is.
To dispute the terminology because the particulars of Mussolini or Hitler vary, because the governmental structure was that and not this, is to deny the reality of what is happening, to deny the psychology of a nation that allows it to happen, that cheers it on, as Americans have been cheering on fascist leadership for two generations, forty years, our entire adult life.
But call it what you want, really. Doesn't matter. Call it nationalism. Call it white populism. Call it Harvey. Just don't pretend it's not happening. Just don't pretend it's not dangerous.
That makes you a part of it.
Add a Comment
Please
log in
to post a comment