Sheeeeit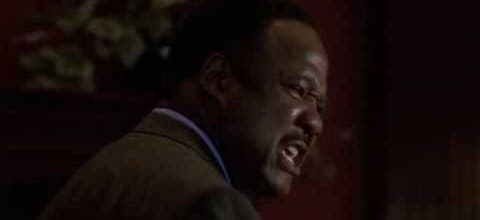 It always arrives with the force of a hurricane.
Trump provokes. America reacts.
Every time.
Without fail.
It's happening right now. Trump provoked. Something about Baltimore. But it wasn't really about Baltimore. It was about the black congressman representing Baltimore. It was about the black people living in Baltimore.
But it wasn't even about that.
It was about black people.
That was the provocation.
Every time. Black people. Brown people. People from shithole countries. People from shithole cities. People who aren't white. People who don't know their place.
Them.
Every time.
And every time, it works. America is provoked. Our minds are cleared for battle. The provocation was racist. But the national media won't say "racist" — that would be impolite — so now we're battling the racists and the media. The racists won't admit they're racists, so now we're arguing definitions with them, opening a third front.
And hey, have you seen Baltimore? Have you seen The Wire? But have you seen a John Waters movie?
Front after front after front after front.
All from one provocation.
It's very efficient, really.
Toss the grenade, watch your opponents scramble.
They really can't help it, poor dears. They were raised that way, to see the good in people, to love their enemies, to be educated and educate others, to see the value in knowing the world as it is, and the sublimity in knowing the universe as it is. As we are, stupid monkeys gifted with awareness and language.
They — we — were raised to be good.
We've been ridiculed for that over the years, for our need to see the good in others, for our denial that some souls are hopeless, our denial that evil exists in the world, that evil cannot be educated, only confronted and defeated.
There's some merit to that argument. Just look at the evil among us. Look how easily we are provoked by that evil, look at our response to it, look at how we're compelled to argue with it.
God, we're stupid.
So, let's just say it: Donald Trump is evil. Donald Trump's supporters are evil. The 40 percent of American adults who consistently approve of Donald Trump's conduct in office are evil.
Evil. Evil in their hearts. Irredeemably evil. Hopeless.
There. That felt better.
Until tomorrow's provocation.
Add a Comment
Please
log in
to post a comment