The Problem With Libertarians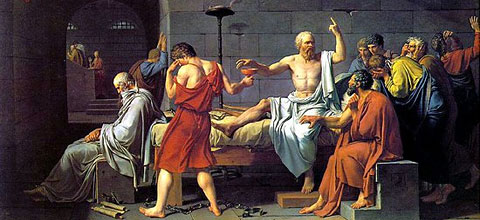 We really hate to bother with this, but since We Have a Master's Degree — in Philosophy! — it's our job to take out the trash:
Meanwhile, the candidate has faced increased scrutiny over racially incendiary newsletters published under his name. When pressed by CNN Chief Political Analyst Gloria Borger, on Wednesday in Mt. Pleasant, Iowa, Paul was defensive – and eventually ended the interview.

The candidate reiterated comments he'd said in the past, "I didn't write them, didn't read them at the time, and I disavow them."
That was Wednesday, before yesterday's revelation that he did read at least one of them, and once stood by its content. And we're going to stop the clock at Wednesday, because there's something about that "disavowal" that's nagging at us.
In short: It's a cop-out.
Let's take the feigned ignorance of a racist newletter published under his name at face-value. Let's further ignore the intriguing suggestion that the newsletter writer wasn't personally a racist, but a cynical Libertarian trying to attract bigoted crackers to the cause. (Don't worry, we'll come back to that.)
Instead, let's imagine something incredible: That your name appeared on those newsletters.
Do you disavow them? Well, of course you do! But do you stop there?
No. No, you do not.
First, you'll find yourself apologizing profusely and endlessly. Next, you'll find yourself wondering whether you can outlive the shame of it all. Finally — and this is the important part — you'll take fucking responsibility for them, whatever your lack of involvement in their production. You paid for them, that's your name on them, and you're going to own up to them, because that's what a Responsible Adult does. Something about — how you say? — personal integrity.
You know, like Libertarians are fond of claiming for themselves.
Except when it counts.
Think of it: Here's Ron Paul, standard-bearer of Libertarianism, Idol of Misbegotten Youth, finally presented with a chance to show his mettle, on an issue that personally affects him, and not some broad issue he doesn't have a chance in hell of winning. Now's his chance to show what Libertarianism is really about.
And he blows it.
Not because he made a mistake — we all do — but because he won't own up to it.
There's a word for that. No, not "hypocrite". Craven. Nice philosophy, Doc! Drop a line when you have it worked out!
Oh, but Ron Paul is but one man. Surely we can't tar an entire movement with his transgressions. No, that requires a conspiracy:
During the period when the most incendiary items appeared—roughly 1989 to 1994—[Lew] Rockwell and the prominent libertarian theorist Murray Rothbard championed an open strategy of exploiting racial and class resentment to build a coalition with populist "paleoconservatives," producing a flurry of articles and manifestos whose racially charged talking points and vocabulary mirrored the controversial Paul newsletters recently unearthed by The New Republic. To this day [in 2008] Rockwell remains a friend and advisor to Paul—accompanying him to major media appearances; promoting his candidacy on the LewRockwell.com blog; publishing his books; and peddling an array of the avuncular Texas congressman's recent writings and audio recordings.
See, Libertarians aren't racist — they don't even have the integrity for that. No, they're so convinced of the rational truth of their beliefs that they have no problem cynically appealing to racists for support.
So, assembled Libertarians, and we say this from the heart: Fuck your empty principles and don't come back until you grow a pair.
Add a Comment
Please
log in
to post a comment