Our Forgetful Racist Newsletter Publishers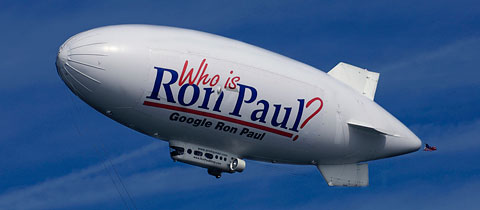 We've been ignoring the whole Ron Paul Racist Newsletter Thing because we thought it had been done four years ago, and that the verdict was he had been incredibly stupid to let something like that go under his name.
That is: We were satisfied that Ron Paul had profoundly racist minions whom he wasn't paying attention to, whatever his own considered views on Rational Bigotry, and we figured that was damning enough.
And besides, racism isn't as fun as serial adultery or clueless wealth.
But folks are hitting the Nexises, Lexises, and Googles, and turned up some new evidence:
Rep. Ron Paul has tried since 2001 to disavow racist and incendiary language published in Texas newsletters that bore his name, denying he wrote them and even walking out of an interview on CNN Wednesday. But he vouched for the accuracy of the writings and admitted writing at least some of the passages when first asked about them in an interview in 1996.
Well! That is news! Go on:
In 1996, Paul told The Dallas Morning News that his comment about black men in Washington came while writing about a 1992 study by the National Center on Incarceration and Alternatives, a criminal justice think tank in Virginia.

Paul cited the study and wrote: "Given the inefficiencies of what DC laughingly calls the criminal justice system, I think we can safely assume that 95 percent of the black males in that city are semi-criminal or entirely criminal."

"These aren't my figures," Paul told the Morning News. "That is the assumption you can gather from the report."
Of course, citing a "think tank" without providing background raises our hackles. Happily, somebody at Commentary had the same instinct:
A Nexis search for the "National Center on Incarceration and Alternatives" turns up eight articles, all on the Ron Paul newsletter controversy from 1996 and later. Which raises the questions: Did this think tank ever exist? Or was it manufactured by the Paul campaign?
So, there you have it: A fresh controversy! And our judgment about Ron Paul remains unchanged: Half of what he says makes sense. It's the other half that frightens the shit out of us.
Add a Comment
Please
log in
to post a comment