Announcing the 2011 Stinque Awards!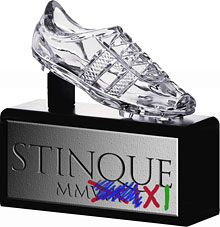 If we had ten thousand dollars to bet, we'd start a pool among quarter-billionaires to name the results of a major annual awards presentation of which we conveniently were the sole judge, because it's the equivalent of a buck or two to mortals, they wouldn't miss it, and we could fund our retirement.
And wouldn't you know, today we're announcing the Fourth Annual Stinque Awards for Achievement in Infamy. If any quarter-billionaires would like to join our Exclusive! private pool, have your PA call our PA.
For the rest of you, the rules are simple: There aren't any.
Instead, this week you're invited to suggest award Categories and Nominees. Next Monday we'll announce the finalists, with a custom proprietary voting system that weights your choice according to the accompanying bribe. Finally, the Monday after that, we'll unveil the winners in a spectacular day-long ceremony not produced by Brett Ratner and not hosted by Eddie Murphy.
You may crib suggestions from previous years. Following tradition, the only certain award is the celebrated Golden Anal Pear for Asshole of the Year. If nominations merit, we may also bestow the coveted Crystal Douchebag for Lifetime Achievement, joining the frying pantheon of Dick Cheney, Rush Limbaugh, and John McCain.
Winners receive our handsome Crystal Shoe in honor of Muntader al-Zaidi, who inspired the world in 2008 by Throwing Truth to Power. Since we originally ordered a gross of statues, we're doing our part for a Green World by repurposing them until we can finally see the back of the storage unit again.
Add a Comment
Please
log in
to post a comment