Stinque Recipe Challenge
Tonight it's Julia's Carbonnades a la Flamande (Belgian Beef and Onions Braised in Beer):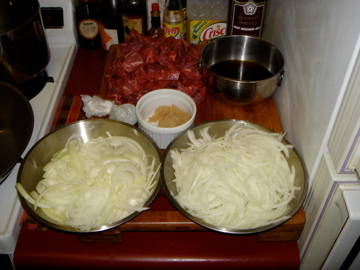 Ingredients
3 lb. piece of lean beef from the chuck roast or rump
2-3 Tb. of reduced pork fat or good cooking oil (I used canola for it's high heat capabilities)
6 cups of sliced onions
salt and pepper
4 cloves mashed garlic
1 cup strong beef stock or canned beef bouillon
2-3 cups light beer, Pilsner type (I used 550 ml bottle of Samuel Smith's Nut Brown Ale)
2 Tb light brown sugar
Herb Bouquet – 6 parsley sprigs, 1/2 tsp of thyme, 1 bay leaf tied in cheesecloth
1.5 tbsp arrowroot or cornstarch blended with 2 tbsp wine vinegar
Instructions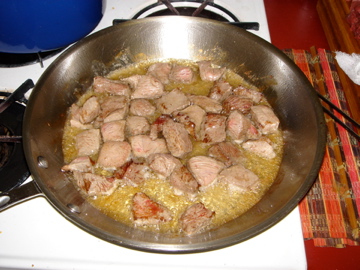 Preheat oven to 325 degrees. Cut the beef into slices about 2×4 inches across and 1/2 inch thick. Dry in paper towels, and put 1/16 inch layer of fat or oil into heavy-bottomed skillet. Heat until almost smoking, and brown beef slices quickly then set aside. I cooked the beef in 3 batches.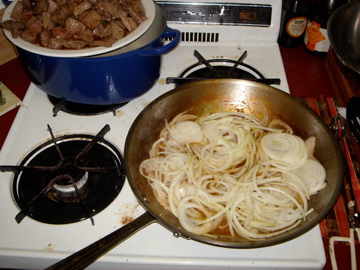 Fry the onions in the same fat, adding more fat if necessary. I had to do the onions in 2 batches – they reduced by about two-thirds.
Added some oil in between batches, and wound up with:
Season the onions with salt and pepper, add the garlic, and mix.
And here's what it looks like when you put in a layer of beef, onion, beef, and onion – add salt and pepper to each layer of beef: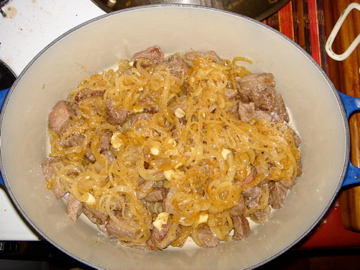 Bring the beef stock to a simmer, and pour it over the casserole: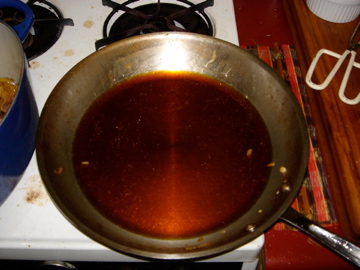 And dump it into the casserole along with the beer, just covering the meat. Nestle the herb bouquet among the meat slices, but only after you stir in the brown sugar.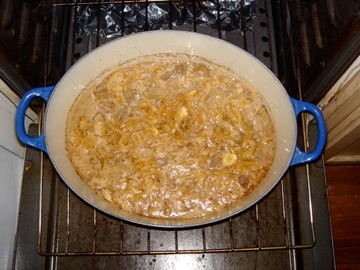 Bring casserole to the simmer on top of the stove, then cover and place in the lower third of the oven. Regulate the heat so the liquid remains at a slow simmer – cook for 2.5 to 3 hours until meat is fork tender. Here's what it looks like about halfway through (I pulled it out to turn it and check for seasoning).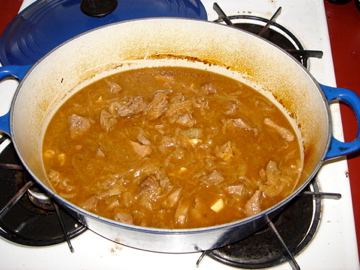 Ten minutes after 7 EST, and I think I'll lower the heat and give it another hour.  Rest of the recipe will follow – basically it's straining the liquid, adding the cornstarch/wine vinegar thickener, pouring it over the meat, and serving the whole thing over egg noodles with a side salad.
Here it is out of the oven and plated: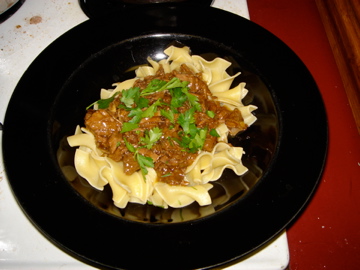 And that's just what I did – spooned out the solids, strained the sauce, added the thickener, and served.  Better than the other recipe I'd used – we're having it for breakfast as well. Bon appetit!
Add a Comment
Please
log in
to post a comment