The Lady is Free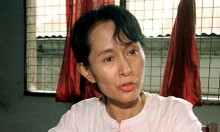 Aung San Suu Kyi was released from house arrest today by the military generals who have brutalized and destroyed Burma.  Her latest round of arrest and isolation was for seven years, and she has been either imprisoned or on house arrest for 16 of the last 21 years.
Thousands of supporters braved police in riot gear and carrying shotguns to joyfully greet the pro-democracy leader known universally as "The Lady" outside her house. Video after the jump.
[ Flash video not available. ]
The reporter for the Guardian described the current situation in Burma:
Since being "freed" yesterday, Aung San Suu Kyi has still not left her house. No indication has been given yet as to what conditions the military have imposed upon her liberty, and whether she will accept them.

Through lawyer U Nyan Win, she has indicated she is not interested in compromise, or accommodating the wishes of a military regime which jailed her three times and still holds more than 2,100 political prisoners. "The Lady will defy," he told the Observer. "She will not accept conditions from the regime. She must see her people, she is a politician, the people love to see her free, and she wants to meet with her people."

That her first move today will be to speak to the press and the public suggests she wants a role, formal or not, in her country's politics. That she is doing it from the offices of her now-banned party suggests she is still unafraid.
She is my hero. Great profile is available here.
ADD: In Suu Kyi's words, something that makes me feel better when I think of some of the grotesque things happening in our democracy:
"It is not power that corrupts, but fear," Aung San Suu Kyi once wrote. "Fear of losing power corrupts those who wield it, and fear of the scourge of power corrupts those who are subject to it." But even under the "most crushing state machinery, courage rises up again and again. For fear is not the natural state of man."
Add a Comment
Please
log in
to post a comment