Stinque Recipe Challenge
So tonight we're going for the gold – Sole Meuniere (the dish that turned Julia Child on to French food), haricot vert (in this case, French green beans from Fairway), and pommes de terre (here Potatoes Lyonnaise).  First, the potatoes, because they can be made ahead and reheated. The finished dish: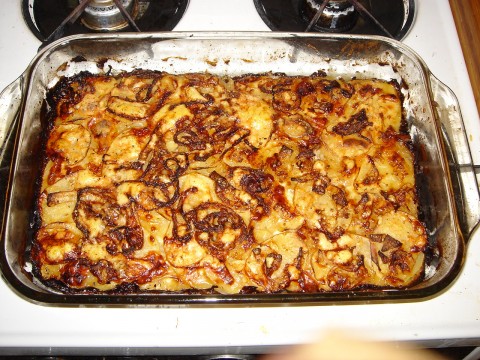 INGREDIENTS
3 Tbsp butter
2.5 cups thinly sliced onion
6-8 boiling potatoes, sliced thin (the French peel them, but I went Galt and didn't)
salt and freshly ground white pepper
1 cup coarsely grated Swiss cheese
1.5 cups chicken stock (I simmered 4 cups down to 1.5 to concentrate the flavor)
Got a Swiss-made mandolin today at Zabar's (anything to buy a new kitchen gadget) so let's employ it to slice up the onions: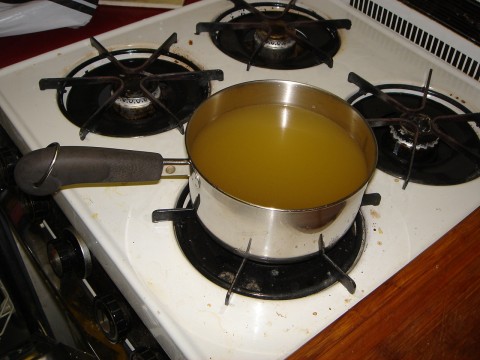 First I took 4 cups of chicken stock down to about 1.5 cups, to concentrate the flavor.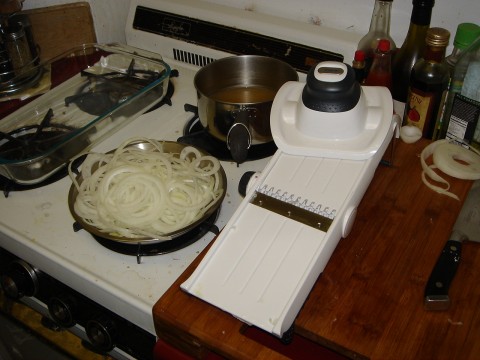 Mandolin worked well but for the small tip of a finger I lost (my bad). Onions go in …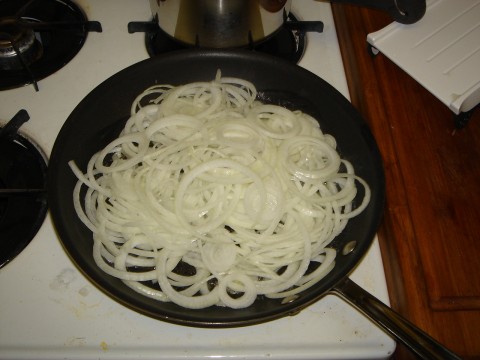 Onions come out: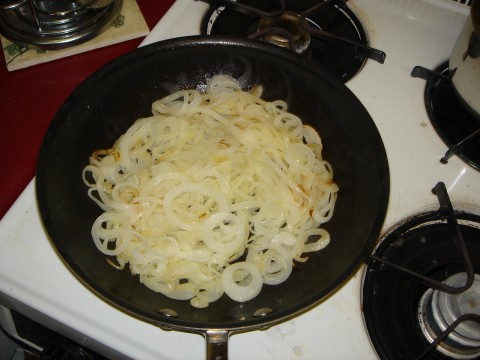 Looking good, so let's slice up the potatoes: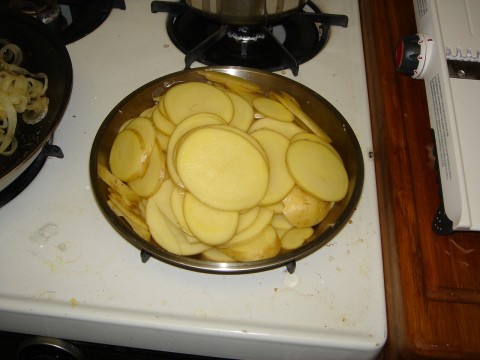 Buttered Pyrex with first layer of potatoes: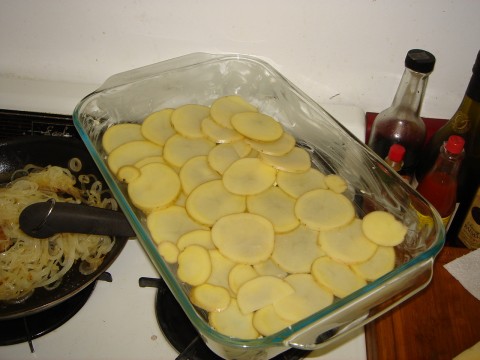 Swiss cheese blitzed in the food processor: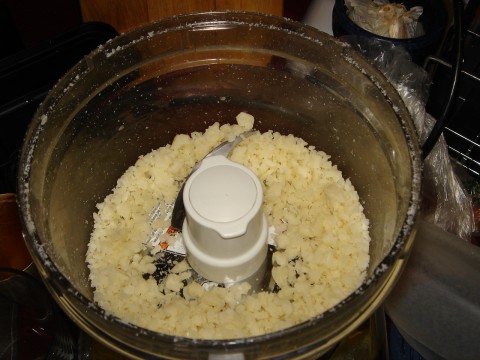 First layer of potatoes, onions, and swiss – do 3 layers, and use more cheese on last layer, then dump the reduced chicken stock in (don't pout ir over the top) and place in 450 oven for 15 minutes, then reduce to 325 for 45 minutes, and cool on a rack: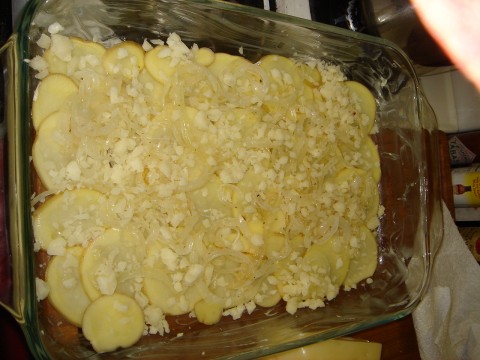 Next dishes done shortly:
The string beans (haricot vert) are simple – saute them in olive oil, salt, and pepper, then add sesame oil for the last 10 seconds: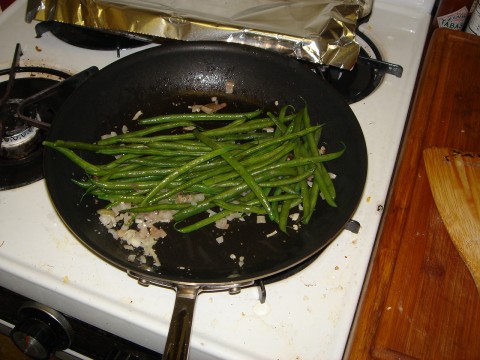 As for the fish:
Petrale/ Dover sole fillets
salt and fresh-ground pepper
all-purpose flour
45g (3 tablespoons or 1/2 stick minus 1 tablespoon) unsalted butter, plus 15g (1 tbsp) for later
half a lemon

Make sure the fillets are thoroughly thawed. Season very lightly on both sides with salt and pepper.

In a skillet over medium-low heat, melt the 45g butter. As soon as the butter stops foaming, dredge both sides of each fillet lightly in flour; slap the fish around to get rid of as much excess flour as you can. Lay them out on the pan, being sure not to overcrowd the pan (maybe 3 fillets at a time). Cook for 3-5 minutes (5 minutes if you had thicker fillets like I did, but it really won't take long especially if you thawed them well), turning once during cooking. Drain the fillets and lay them out on the serving platter. Melt the additional 15g of butter into the now-browned butter in the pan and turn off the heat. Squeeze the lemon into the pan and stir together well. Pour the sauce over the fillets.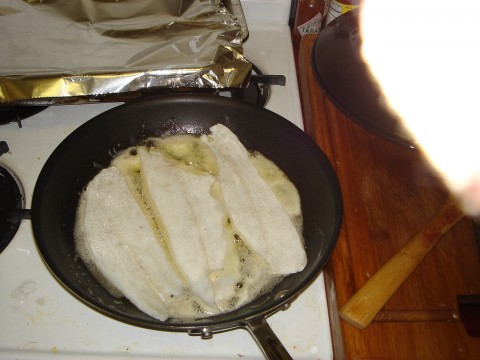 I forgot the lemon, but it was delicious anyway.  And remember – when Julia ate this dish for the first time, she ate it in a restaurant founded in 1345.
Et voila!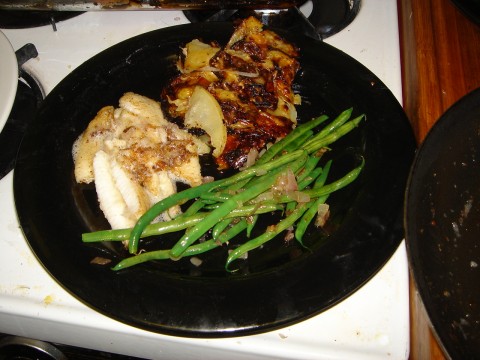 Add a Comment
Please
log in
to post a comment