The Way Out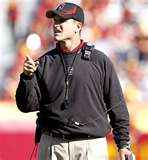 This is Jim Harbaugh.  He is the head coach for Stanford — who go to South Bend this afternoon to play Notre Dame (1530 EDT, NBC).
"So," you're asking, "what does this have to do with the State of the World?"  Well, apart from the fact that he is regarded by all followers of Tree as being PRECISELY WHAT WAS REQUIRED, he has the roadmap that the Democrats should have followed over the last two years, and should follow in the next month and beyond.
Without getting longwinded, Harbaugh's trick is finding the weak spot in opponents, and then DRIVING IT DOWN THEIR THROAT.  REPEATEDLY.  Cries for sweet mercy go unheeded in Coach Harbaugh's world — pressing forward until the end is the only way.  Winning by three touchdowns is nice.  Winning by five touchdowns is even better.  66.7% better, in fact.
The Dems?  This week, they said: "maybe we can get everybody to come to some sort of reasonable consensus to achieve common goals."  They say this every single damn week.  The GOP knows nothing of "reasonable," "consensus," "common goals," or even "everybody."  Neither does Jim Harbaugh.  Thus endeth the lesson, and the strained connection to Sport, for today.
Add a Comment
Please
log in
to post a comment