$22,140.75 an hour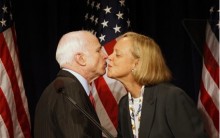 No, that's not the rates paid by Eliot Spitzer and David Vitter for female companionship and diapering, that's how much Meg Whitman spent on her campaign for California Governor from May 23 to June 30, according to campaign disclosure reports filed with the state on Monday.  That works out to $531,378 spent per day. She's cranked it up from May when she was only spending $138,828.63 per day.  Whitman has now spent $99.7 million on the race since January 1, 2010.  $91 million of it is her own money.
Attorney General Moonbeam has only spent $377,000 since January 1, 2010.  That's one fourth of what Whitman has spent on chartered jets and travel for herself, her family, and her staff, and one-twenty-fifth of what she has spent on campaign consultants.
Your Stinque.com breakdown of the data (since there are no "real" reporters left who would do this):
Go to the Secretary of State link above and click on the button "Expenditures Made" to see all campaign expenses. The website allows you to export the data into a spreadsheet, which I have re-organized by expenditure type, and then totaled the expenditures for various categories.
Stinque's analysis of the Whitman campaign report
Total spent on campaign consultants: $9,734,607.64
Total spent on candidate travel, lodging, and meals: $664,124.51
Total spent on spouse/staff travel, lodging, and meals: $953,373.51
While Whitman has singlehandedly ensured that radio and teevee stations in California are not going bankrupt (yet), the irony of all this spending is that the latest polls show that Jerry Brown leads her by three points.
Moonbeam's Zen rope-a-dope strategy may actually be working.
Or else people are sick of her fingernails-on-the-chalkboard voice on the radio and television every five minutes.
Add a Comment
Please
log in
to post a comment