Douchebag-Free Zone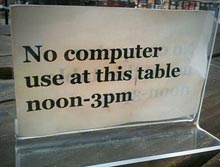 This portion of our test is designed to measure your comprehension. Please read the following passage thoroughly before answering the questions below.
A few weeks ago I decided to mosey over to a local Manhattan coffee shop for an afternoon cappuccino.
After placing my order I sat down at a table and pulled out my Amazon Kindle.
I barely made it a sentence into the e-book I was reading before an employee of the coffee shop came by, stood over me and said, "Excuse me sir, but we don't allow computers in the coffee shop."
I looked up at him with an incredulous look and replied, "This isn't a computer, it's an e-book reader."
He then told me that the "device" in my hand had a screen and required batteries, so it was obviously "some variation of a computer." The coffee shop, I was told, did not allow the use of computers.
Annoyed with this distinction, I peppered the employee with questions on why reading on paper was more acceptable than reading on a screen. Flustered and confused by the existential debate he had been dragged into, the employee resolutely said, "Look, no computers in the coffee shop."
I was dragged into a similar dispute at a sandwich shop in Brooklyn, this time while reading and taking notes on my iPad. The employee there said no computers were allowed between noon and 3 p.m. After another lengthy defense of e-readers and screens, I lost, again, and sat there resentfully picking at my sandwich.
Questions
1. Would you consider the writer…
a. Somewhat entitled.
b. Very entitled.
c. A fucking asshole.
2. Which printed matter would you use to whack the writer upside the head?
a. The Sunday New York Times.
b. The Structure of Scientific Revolutions.
c. The Dildo of Enlightenment.
3. Which sandwich is most likely to make the writer resentful?
a. Ham on rye.
b. BLT.
c. Turkey.
4. If you were rewriting this passage as a Seinfeld episode, which device would you plant with another patron as a foil to your protagonist?
a. An abacus.
b. An HP programmable calculator.
c. Stephen Hawking.
5. What, in addition to a Kindle and an iPad, is the writer likely carrying with him?
a. A Bluetooth earpiece.
b. Three-year-old rubbers.
c. Drama, drama, drama.
Add a Comment
Please
log in
to post a comment