And Yet [insert random WaPo columnist] Still Walks the Earth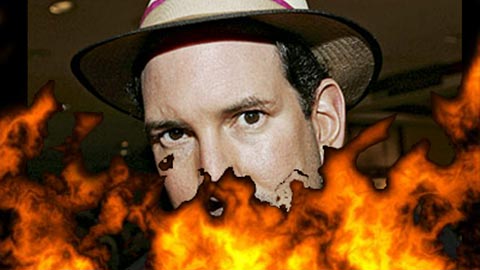 We've been following Dave Weigel for awhile — first at the Washington Independent, then at WaPo, where he recently moved to continue his coverage of wingnuts and teabaggers.
Now we'll have to find him somewhere else, because he just resigned today.
Turns out Dave was also active off-blog — at "Journolist", a private email list for shop talk. Fishbowl DC decided to liberate some of his messages there, two of which we find delightful:
"This would be a vastly better world to live in if Matt Drudge decided to handle his emotional problems more responsibly, and set himself on fire."

"It's all very amusing to me. Two hundred screaming Ron Paul fanatics couldn't get their man into the Fox News New Hampshire GOP debate, but Fox News is pumping around the clock to get Paultard Tea Party people on TV."
Weigel publicly apologized Thursday, trying to get ahead of the story before it broke, but it was too late — the Daily Caller ran some more fun entries this morning:
"Honestly, it's been tough to find fresh angles sometimes–how many times can I report that these [tea party] activists are joyfully signing up with the agenda of discredited right-winger X and discredited right-wing group Y?"

"There's also the fact that neither the pundits, nor possibly the Republicans, will be punished for their crazy outbursts of racism. Newt Gingrich is an amoral blowhard who resigned in disgrace, and Pat Buchanan is an anti-Semite who was drummed out of the movement by William F. Buckley. Both are now polluting my inbox and TV with their bellowing and minority-bashing. They're never going to go away or be deprived of their soapboxes."

"It's really a disgrace that an amoral shut-in like Drudge maintains the influence he does on the news cycle while gay-baiting, lying, and flubbing facts to this degree."
Damn, Dave, you're good. And since Olbermann ignored our invite, you're always welcome here. No pay, alas, but we'll buy a Plushie STD for ya.
Image: owillis [TwitPic]
Update: Journolist founder (and fellow WaPo blogger) Ezra Klein zaps the list.
Add a Comment
Please
log in
to post a comment