Toy Story 3-D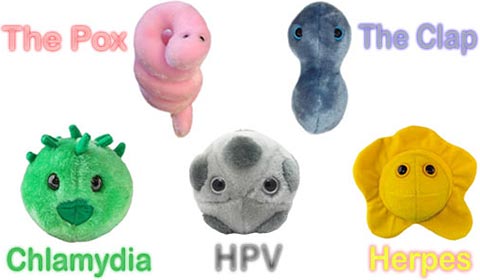 Back in fifth grade, our progressive sex-ed book had a picture of a nekkid boy, weenie out, which got us all excited — that meant just a few pages later we'd see a nekkid girl.
But the publishers used a drawing instead. Bastids.
Kids today don't know how good they have it:
Parents are outraged after young teenagers were instructed on graphic sexual acts during a Planned Parenthood sex education class at the local high school in Shenandoah, Iowa…

[Colleen] Dostal's 14-year-old son was one of a handful of eighth graders in the class. The students, she said, were given instruction on how to perform female exams and the instructor used a 3-D, anatomically correct male sex organ to explain how to use a condom.

But Dostal said she was most upset over the instructor simulating sexual acts using stuffed animals designed to resemble STD's.
In like a lion, as the inexplicably unfindable National Lampoon cov—
Hold on. Plush STDs?
At first we thought the Fox copy desk was asleep at the switch. And then we looked around.
Instructor of SHS sex ed class says information was 'turned around' [Lexington Clipper-Herald, Your Source for Dawson & Gosper County News]
Add a Comment
Please
log in
to post a comment