Keith Olbermann Invited to Blog on Apocalyptically Vulgar Website That MSNBC Online Ad Unit Disowned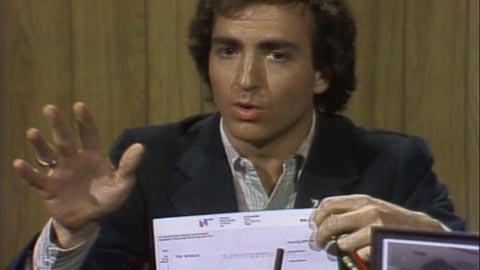 Longtime Stinque detainees will recall that once upon a time, before the Not the MSNBC Ad, there was an MSNBC ad. And a purty ad it was, with rotating headlines and a sponsor who actually paid for the privilege of raping your eyeballs.
That's the part we recall fondly at Stinque World Domination Headquarters and Discount Vuvuzelas: the twenty-dollar check that arrived in the mailbox every month. The MSNBC ad paid per "impression" (each time you visited a page) and not per click. The substitute Google ad isn't nearly as beermoneylicious, and we only keep it running for the occasional context-dependent amusement.
So what happened to the MSNBC ad? Simply put, one day they told us to fuck off. We were using very naughty language on our site, distressing the advertisers who preferred less competition for their expensive eyeball-raping. We could either tone down the salty talk, or kiss that monthly Jackson goodbye.
We're not sellouts. At least not for that price.
We've kept the ad title long past the gag's expiration date, simply because we've grown quite fond of it. Also, you never know when it might prove handy.
Like, well, now.
Keith Olbermann, whose program provides us fine Left Coast dinnertime entertainment, quit blogging at Daily Kos in a huff Wednesday. (Has anyone quit blogging at HuffPo in a Kos?) Seems he took umbrage at a Kossack who accused him of trashing Our President's speech Tuesday as a ratings stunt.
No, really. Somebody at the Great Orange Satan actually thought Obama gave a wonderful speech. Maybe they were watching a rerun of Denver.
Heck, the wingnuts were as stunned as the moonbats: They couldn't believe Keith and Tweety and Rachel actually trashed it. Because MSNBC is a mirror image of Fox, after all, and nobody at Fox crosses the party line. Except Shep, when they forget to hide his flask.
Never mind that the speech, well, sucked. Apparently we're not supposed to mention facts in polite company.
Anyway, Keith's now a Blogger Without a Country. And since nobody else will have him, we're extending an open invitation for him to blog here. If we can't have an MSNBC ad, we'll settle for an MSNBC host.
And this being Friday, we'll conclude our pitch with a personal touch to cinch the deal: One of our favorite shows as a kid was "My World and Welcome To It." You may not be familiar with it, but Keith will know. It was based on James Thurber.
Add a Comment
Please
log in
to post a comment