Is This the Felon to Whom I Am Speaking?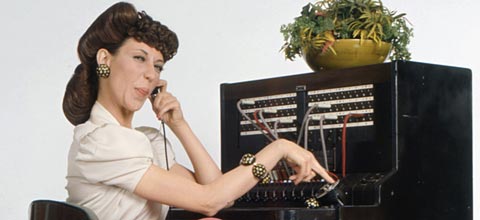 So, what was Huggy Bear impersonator James O'Keefe doing in the New Orleans office of Mary Landrieu?
Guess again.
This is the point where we'd normally post an excerpt and riff on it. But our mind is so blown by the details, we can't do that to you so early in the morning. No, we're going to try to make sense of it. You can thank us by giving generously to the Nojo iPad Fund.
Here's the background: Landrieu was responsible for the "Louisiana Purchase" in the Senate healthcare bill — $300 million in "Gulf Coast recovery money" to offset post-Katrina Medicare expenses.
O'Keefe and his fellow felonistas suspected that Landrieu's office was blowing off critical phone calls from constituents. So they hatched a clever plot to demonstrate the callousness of the secretarial pool.
By cutting the phones themselves.
Thus: O'Keefe arrives early, "waiting for an appointment," hidden video running. The two Village People wannabes wearing phone-company jumpers — with another hidden camera in a helmet — show up later to "check the lines," and head for the phone closet to disconnect them.
At which point O'Keefe would capture the office staff cackling and popping champagne corks in celebration of not having to deal with those pesky constituents.
Followed by O'Keefe's video being posted on Big Government, picked up by Fox News, presented as another example of how Demrats don't give a shit what you think, and ignored by everybody else.
There's some pushback against this scenario — that somehow it's too stupid to explain O'Keefe's actions. But the fact it's so stupid is what gives it credibility.
In other words: James O'Keefe is now an accused felon because he's a fucking idiot. That makes perfect sense to us. Veritas, dude.
ACORN foe tweeted about planned sting of Sen. Landrieu's office [WaPo]
Add a Comment
Please
log in
to post a comment