Hooked on Tronics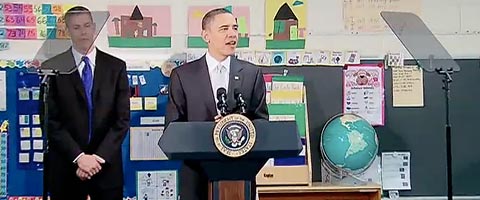 We're not fans of the Obama Teleprompter Meme, although we have to admit that setting up a pair in a classroom last week skews the optics. Of course, Administration flacks quickly corrected perceptions that Barry was talking to students — no, this was for the media, before the prompterless Q&A.
Which we like even better. It's very easy to imagine this as the White House press room, which makes more sense of the level of intelligence on display there. And, for present purposes, it's also quite easy to imagine this as Congress, with Joe Wilson heckling Teach from the back of the class.
So we'll go with that, since we need some excuse to launch our State of the Union Open Thread/Cold Lunch. We swear we had something else prepared, but Bo ate our homework.
Add a Comment
Please
log in
to post a comment