Bank of America: Criminal Bank & Cackling Mad Home Invasion Menace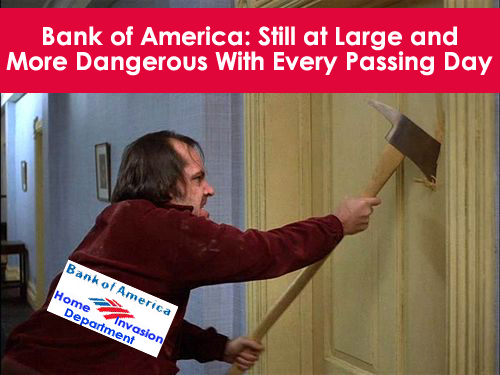 The monstrous horror that Bank of America, and its noxious acquisition, Countrywide Financial, have cast upon this land extends far beyond lunatic abandonment of underwriting quality, knowing sale of worthless mortgages to securities firms and wanton, savage disregard for the financial health of its customers.
This criminal enterprise is so completely mad in the babbling, demented fury of its death throes that it is seizing buildings with which it has no foreclosure standing. Arrive at home and find that the  locks have been torn out and replaced? The electrical power's been cut? Surprise, Bank of America's come for a visit!
Ha! Hahaha! Hahahahahahahahahahahaha! Heeeeeeeeeeeeeeeeeeeeeere's BofA!
One guy in Galveston had his entire vacation home destroyed by the Bank of America Home Invasion Department when they shut down the power after busting into the house and changing the locks, leaving nearly 100 pounds of frozen fish to rot, putrify and finally ooze out all over the house, turning it into an unlivable horror with an unimaginably wretched stench, almost exactly the kind of aroma that you can detect on Bank of America and Countrywide mortgages, in fact.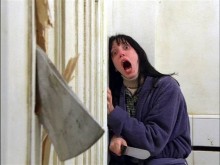 The only clue left to the victim, Dr. Alan Schroit, was a notice of foreclosure plastered to the front of the house, a bank with which he had the good sense to have no relationship at all.  Of course, Bank of America's snarling hyenas ridiculed him and tried to dismiss him like they do their own customers and he was forced to sue the insane, hateful pieces of shit.
Last fall, another poor sucker in Wheelwright, Kentucky was forced to sue Bank of America after a home invasion episode by the Bank of America's Random Destruction Unit left his house shattered.  The RDU had set upon his house like a psychotic home-wrecking monster from a John Carpenter interpretation of This Old House. BofA's traveling psychopaths slashed all the supply lines to the house, poured all manner of exotic chemicals into the plumbing supposedly to 'winterize' it and ripped out the locks and replaced them with their own.
BofA, of course, dismissed Wheelwright home owner Christopher Hamby as a witless crybaby and jeered at his request to repair the wanton destruction they had visited upon his home, offering only to replace the locks.  Typically, if you're not providing fees and usurious interest payments to the bank, you're considered good for nothing but abuse.
Let everyone know, this grasping criminal enterprise is not a bank.
It is a vast financial toxic waste machine masquerading as a bank – and as long as it is in 'business' no American homeowner is safe. Its underwriting quality is so poor that the notes it wrote on thousands of homes have soured (though interestingly, and AG Holder should investigate, it likely holds the ones that didn't fail – having sold off preferentially the doomed paper) and whole communities are blighted with empty streets of abandoned homes, ripe for arson and squatting by addicts and prostitutes. Now, reports are streaming in from across America that Bank of America operatives are randomly seizing homes, another sign of a completely incompetent, diabolical enterprise ripped loose from its moorings and careening destructively across America.
Since the Obama Administration is not capable of disciplining or destroying this bank, it is our duty to deny it the capital required to wreak chaos across the land. If you or anyone you know has any accounts – personal or business – with this monstrous criminal enterprise, please get them out and encourage your contemporaries to pull their deposits before it is too late for America.
Here's the drill that can kill Bank of America:
First, find a credit union or thrift that can replace all the services that you now endure at the big banks.
Go to this website and run searches for credit unions and thrifts in your neighborhood – and don't bother with any institution with anything lower than 4 or 5 stars: http://www.bankrate.com/rates/safe-sound/bank-ratings-search.aspx?t=cb
You deserve the safest bank possible and, hey, bad banks need to fucking die and their executives need to be left to rot in the stocks on the commons where former victims can enjoy taking nice, long Ballantine Ale pisses on their faces. If the bank you are considering is a state-chartered thrift or credit union, make sure they have FDIC insurance. Some states insure institutions they charter and may or may not fully fund their insurance pools, exposing depositors who think they're covered like the credit union meltdown in Rhode Island in 1991. FDIC has its problems, but they know how to put a bank out of its misery with minimal trouble for insured depositors.
If your new credit union or thrift has everything you need, ask what it would take to replace the credit card you have now. If the terms are OK, apply for one and, once it comes through and you know you have the credit line you need in hand, tear up the old one. (It's key that you hold onto the old one and see the new one and know your credit line is sufficient for your home needs and/or any small business requirements you may have. Even banks with long business relationships with existing consumer and small business customers are scrimping on credit lines. Don't be surprised if you qualify for a card – but at a lower credit line than you are used to having.)
Once you're satisfied with your new credit card, go back and get the remaining deposits and checking accounts from your old bank and enjoy knowing that you're reducing capital on hand that the bank can use in financial pornography inflicted on consumers.  Then write a nice long letter to the bank's president advising him on your decision and your wishes that he die starving to death, frozen to a fucking sidewalk while a homeless dog eats his face. Ha. Hahaha. Hahahahahahahahahahaha. Die, you fucking, monster! Fucking die! Someday, with your help, some of us may just have the pleasure of encountering a BofA executive, frozen to a sidewalk and still conscious enough to appreciate the nice long Ballantine Ale piss on his face. Ha. Hahaha. Hahahahahahahahahahaha.
Add a Comment
Please
log in
to post a comment